Greer's Blog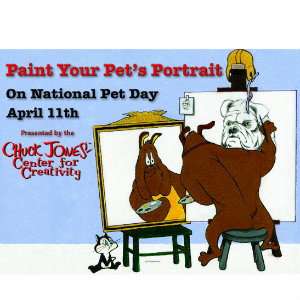 04.09.19
Get ready to celebrate National Pet Day with a pet painting workshop at Chuck Jones Center for Creativity! On Thursday, April 11 pet lovers are invited to showcase their creative side by painting adorable portraits of the special animal in their lives. Two sessions will be offered on the day of the event – an afternoon session from 3:30 p.m. – 5:30 p.m. and an evening session that includes wine tasting from 6:30 p.m. – 8:30 p.m.
No experience or materials needed – simply bring your favorite photo of your dog, cat, fish, etc. and let your painting mentors guide you through the stroke by stroke process.
Guests can also enjoy a variety of pet-friendly products in addition to patios perfect for grabbing a bite to eat with your furry friend at SOCO + The OC Mix on this special day.
Tickets for the afternoon session (3:30 p.m. – 5:30 p.m.) are $35 and can be used for 1 adult, 1 adult + 1 child, or 2 children. Tickets for the evening session (6:30 p.m. – 8:30 p.m.) are $45 and include wine tasting. Please note that participants in the evening session must be 21+.
For more information on the event and to purchase tickets, visit chuckjonescenter.org.
Chuck Jones Center for Creativity at SOCO is at 3321 Hyland Avenue in Costa Mesa. 949.386.7501.
---
More Greer