Greer's Blog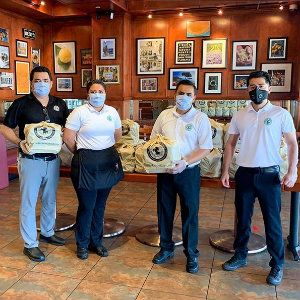 07.23.20
Panini Kabob Grill, a Mediterranean-inspired fine-casual scratch kitchen, is honored to join The Great Plates Delivered Program Orange County. With several restaurants in Orange County, they will be serving many seniors in need who may have been adversely affected by COVID-19. It has always been part of their principles and beliefs to give back every way they can to their loving and supporting community.
For seniors who would like to join the Great Plates Delivery program, they will need to complete an application in order to determine eligibility. The application can be filled out 1 of 2 ways:
Go on-line to myagewell.org and click on "Great Plates Delivered Program" button and complete the application. When you come to the question, "Were you referred to this program by a restaurant or Food Provider?"
If the senior does not have a computer to go on-line to complete the application, they can call 949.382.6099 (M-F 8 a.m. – 5 p.m. PST) for enrollment assistance over the phone. After hours they will need to leave their name and phone number on our message machine and we will give them a call back during their regular business hours.
When completing the application on the phone, the applicant should answer. I read this from PKG, when asked the question, "Were you referred to this program by a restaurant or Food Provider?" This will enable them to serve the senior signing up for the service and thus allow us to spread the word for this amazing program to those who could use three meals delivered daily.
Panini Kabob Grill is an upscale, fast-casual restaurant with 20 locations all over Southern California. Panini Kabob Grill prides itself on its unyielding commitment to sourcing the highest quality ingredients and dishing them out at the best value in town. They strive to provide the most flavorful, delicious and healthiest dishes for all - from meat-lovers, seafood fans, vegetarians, and vegans alike. For more information, please visit PaniniKabobGrill.com.
---
More Greer