Greer's Blog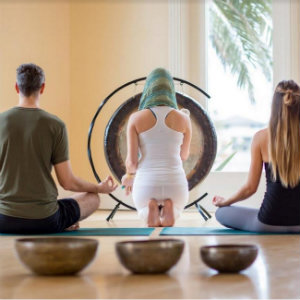 02.19.18
Spa Montage at Montage Laguna Beach expands its yoga offerings by bringing in local, popular Ritual Yoga to lead a new series of classes designed for yoga enthusiasts of all ages and aptitudes.
Open to the public as well as resort guests, sessions are held both in the morning and afternoon, with class highlights including:
Gentle Flow: Offering a relaxed pace and individualized attention – with deep stretching, mindful Vinyasa and breath work.
Mindful Meditation: Allows deep, intuitive focus into complete well-being and internal shifting of energy and consciousness.
Power Yoga: A dynamic combination of strength, sweat and spirituality, with an emphasis on strong standing poses while toning muscles and calming the mind.
Restorative Yoga: Sustained stretching poses release stagnate energy while supporting and preserving joints, bones and connective tissue health.
Sound Meditation: A multifaceted sound healing practice, releasing emotional blockages and expanding consciousness via guided visualization, Tibetan bowls and more.
Vinyasa Flow: Comprised of vigorous, dynamic sequences linking breath and movement.
The cost for each class is $40. Packages and unlimited monthly passes are available as well: a package of five classes is $190; a package of 10 classes is $350; the package of 20 classes is $680; monthly unlimited classes are $750.
Those who purchase packages of 10 or greater will enjoy spa access on the day of their class for three hours after class to enjoy the spa's luxurious fireplace lounges, whirlpool, steam and sauna areas, oceanfront lap pool and fitness facilities. And those who purchase a package of 20 or an unlimited monthly pass will receive an additional 20% discount on salon services (hair and nail) during the time the package is active in addition to three hours of spa access after each class.
To book a class, visit the MindBody app and search "Montage Laguna Beach" or visit montagehotels.com/spamontage. For more information, call Spa Montage at 949. 715.6010.
Montage Laguna Beach is at 30801 Coast Highway in Laguna Beach. 949.715.6000.
---
More Greer