Greer's Blog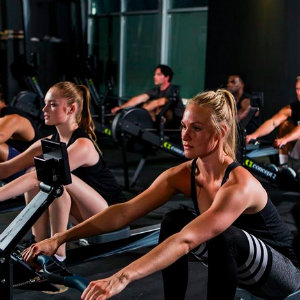 01.02.20
Ladera Ranch is the new home to the nation's leading fitness rowing concept. Row House, a popular boutique fitness rowing brand. Located in the Mercantile West shopping center, the new studio offers members effective, low-impact and high-energy 45-minute workouts centered on the rowing machine, or ergometer.
Long recognized by the rowing community as one of the most effective forms of a full-body exercise, Row House will provide Ladera Ranch and neighboring residents an alternative fitness regimen that focuses on the safety and longevity of their bodies. The modern studio welcomes members into an atmosphere centered on comradery and drive, where participants row in-sync on state-of-the-art Concept2 rowing machines. Used every day by Olympic athletes, cardiac rehab patients, individuals at home and every caliber of rower in-between, the Concept2 is the authentic choice for those looking to marry low-impact cardio and strength training into one workout.
Row House has six class offerings – House, Body, Power, Restore, Full Row, and LAUNCH – to accommodate all fitness levels. Utilizing 85 percent of the body's muscles, rowing maximizes calorie burn, activates the core, strengthens and lengthens the body and ultimately improves posture.
For more information about how to become a Row House member in Ladera Ranch, visit therowhouse.com,
15020 Kensington Park Drive, Suite 140 in Tustin. 949.404.4488.
---
More Greer