Greer's Blog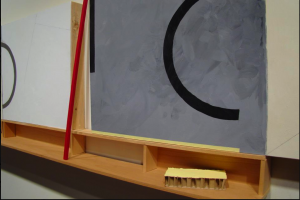 02.10.13
Contemporary art enthusiasts need to know about Brett Rubbico Gallery in Newport Beach. This small gallery on Old Newport Boulevard is one of the leading galleries in Orange County and shows highly selective solo and group exhibitions, occasionally with catalogues and offers educational lectures. Most of the works feature reductive, minimal, abstract, geometric, hard edge, figurative, and landscapes.
Currently local artist, Tom Dowling's show, "Insider Information" is on display through Saturday, March 16. The well-known professor of painting, drawing and Art History at Orange Coast College is displaying 24 new small paintings and constructions that celebrate an affinity with architecture.
"These artworks continue the interest I've had in geometric abstraction over the past 30 years," says Dowling. "My inspiration for these images often comes from my experience traveling and my observation and engagement with the architecture and art that I see."
If you have the opportunity, visit Brett Rubbico Gallery to see Dowling's work and in the future other influential established and emerging artists from Orange County, Los Angeles, and the West Coast.
Open 9 a.m. to 6 p.m. Monday through Friday, or by appointment.
361 Old Newport Boulevard in Newport Beach. 949.515.5102.
---
More Greer