Greer's Blog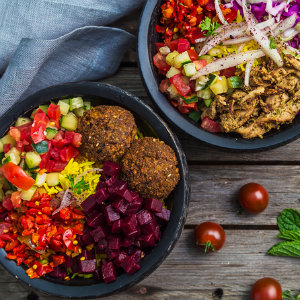 03.15.18
Bay Area-based SAJJ Mediterranean, the popular and fast-growing Middle Eastern eatery known for its highly customizable bowls, pita sandwiches, and wraps, is celebrating the grand opening of its first Southern California location, now open in Rancho Santa Margarita. The festivities will take place today through Sunday, March 18.
SAJJ is offering two ways to win great prizes, one in-store and one on social media. Guests can drop their business card at the newest location for a chance to win a catered party for ten people, and those who post a photo on Instagram of their meal with the hashtag #ILOVESAJJ and caption what they love about the Mediterranean eatery will be entered to win a $100 SAJJ gift card. Additionally, SAJJ will be donating 10% of the weekend's sales to local schools in Rancho Santa Margarita.
Since first opening doors in the Bay Area in 2012, SAJJ has made a name for itself for offering a traditional Mediterranean menu that is fully customizable to fit the preferences of each guest. Their high-quality cuisine begins with locally-sourced produce and antibiotic- and hormone-free Halal meats to create fresh, healthy, and sustainable menu offerings. Options include chicken or steak shawarma, pomegranate chicken, falafel, or shawafel (shawarma and falafel combined) served in a choice of pita bread, sajj wrap, salad, or turmeric rice bowl. Guests can further customize their meal with unlimited toppings and sauces, including hummus, cilantro mint chutney, tahini, tzatziki, peri peri and more.
SAJJ RSM also offers catering services, online ordering, and customer loyalty rewards through the SAJJ Street Eats app. For the full catering menu and terms, and for more information about SAJJ, visit SAJJStreetEats.com.
Open daily from 11 a.m. to 9 p.m.
22245 El Paseo in Rancho Santa Margarita.
---
More Greer