Greer's Blog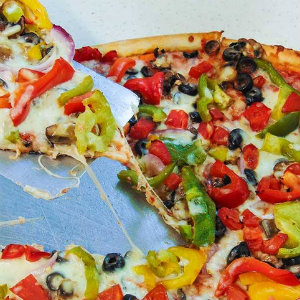 11.13.20
Sal's Pizzeria, one of South Orange County's most popular pizzerias, has opened its second location at Kaleidoscope in Mission Viejo. Ladera Ranch resident Matthew Darienzo owns the award-winning pizzeria, which he launched last year in Foothill Ranch.
Named after Darienzo's father-in-law Sal, the pizzeria serves authentic Sicilian-style pizza and an array of specialty dishes with only the freshest and high-quality ingredients, including Stromboli, calzone, pinwheels, heroes, pasta, salads, and cannoli. All sauces and the mozzarella are made fresh by hand.
As a young boy in Alcamo, Sicily, Sal would help his father deliver Italian food products out of the back of a horse and buggy. At only 10, Sal's family came to America and his father started Collica Dairy (later Collica Quality Foods) where Sal later worked, selling the finest Italian food products for 50 years.
"Being from New York, I have always been very picky when it came to good pizza," said Darienzo. "I would only eat Sal's pizza here in California, but he would only make it for the family on special occasions. I decided to just open a pizzeria so I can have Sal's pizza whenever I want."
"Sal curates every ingredient that is used in the restaurant. If it's not up to his standard with over 50 years of distributing quality Italian foods, we don't use it. We only use the freshest ingredients," added Darienzo.
Sal's Pizzeria is located on the upper level of Kaleidoscope adjacent to Edwards Kaleidoscope Stadium 10. The pizzeria is open Monday and Tuesday from 11 a.m. to 8 p.m, Wednesday and Thursday from 11 a.m. to 9 p.m., Friday and Saturday from 11 a.m. to 10 p.m., and Sunday from 11 a.m. to 9 p.m.
Orders can be placed by calling 949.582.8531 or online at salspizzerias.com. Delivery is free within a five-mile radius through Sal's, or diners can order through Doordash or Grubhub.
Kaleidoscope is located at 27741 Crown Valley Pkwy., just off the 5 Fwy., in Mission Viejo.
---
More Greer