Greer's Blog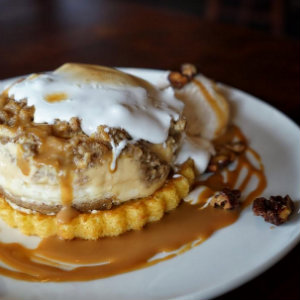 10.01.19
Salt Creek Grille in Dana Point will debut a month-long fundraiser in October to benefit Bracken's Kitchen, a much-admired and innovative non-profit organization that recovers, re-purposes and restores food to provide healthy meals to those experiencing hunger and food insecurity in Orange County.
During October, which is celebrated across the country as National Dessert Month, proceeds from every dessert sold at Salt Creek Grille in Dana Point will be donated to the non-profit.
Salt Creek Grille's Corporate Executive Chef has created a special, limited-edition dessert for the month -- the Pumpkin Fireball, a delectable mélange of Japanese pumpkin cake, pumpkin cheesecake bites, cinnamon ice cream, crisp graham cracker, and pumpkin seed crumble, and topped with a "fireball" toasted marshmallow puff and salted caramel. Guests can also choose among several other perennial dessert favorites on the menu, such as Tres Leche Bread Pudding, Butterscotch Custard, Flourless Chocolate Cake, The Creek S'mores, Butter Cake, Seasonal Fruit Sorbet, and a Chocolate Ganache Soufflé that is made-to-order and finished tableside.
"Here at Salt Creek Grille, we long have admired the amazing and truly valuable work of Chef Bill Bracken and so respect his mission to end hunger in our community," said Sri Divel, partner, Salt Creek Grille. "We couldn't' think of a more fun and delicious way to support his work at Bracken's Kitchen than with a fundraiser built around everyone's favorite part of a meal – dessert!"
"With over 299,000 people struggling to put a meal on their table every day here in Orange County it truly takes a village to conquer this monumental problem," said Bill Bracken, Founder and Culinary Director, Bracken's Kitchen. "I have always felt that if the culinary and hospitality industry can't help solve the issues of hunger in America than who can? As a long time fan of the Salt Creek Grill concept, I am truly honored to have them in our corner and helping us to combat food insecurity one tasty meal at a time."
Open 4 to 10 p.m. Monday to Friday; 11:30 am. to 10 p.m. Saturday; 10:30 a.m. to 10 p.m. Sunday.
32802 Pacific Coast Highway in Dana Point. 949.661.7799
---
More Greer