Greer's Blog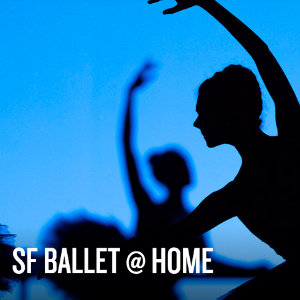 05.13.20
Enjoy world-class ballet at home! San Francisco Ballet's free weekly stream on SF Ballet @ Home features commissioned works from the 2018 Unbound festival and other notable ballets from SF Ballet's repertory. Every Friday, SF Ballet streams a complete ballet from its archives on Facebook, IGTV, YouTube, and the SF Ballet website, calling on regional, national, and international audiences to relish the joy of dance while sheltering in place.
Over the past four weeks, SF Ballet @ Home has featured ballets from Unbound, including David Dawson's Anima Animus, Trey McIntyre's Your Flesh Shall Be a Great Poem, Dwight Rhoden's Let's Begin at the End, and Stanton Welch's Bespoke. Commentary by SF Ballet dancers and creative teams accompanies each stream, offering a behind-the-scenes look into the roles of the Company's artists.
Each stream is made available worldwide for one week. With this timeline, SF Ballet hopes to inspire in-the-moment discussions about the role dance plays in this time of discovery, digital innovation, and artistic creation.
Two different captures of Artistic Director and Principal Choreographer Helgi Tomasson's Romeo & Juliet will be featured on SF Ballet @ Home, through May 15.
Friday, May 15, at 3 p.m. PDT
Hurry Up, We're Dreaming (February 12, 2019 SF Ballet capture)
Tony Award winner Justin Peck's Hurry Up, We're Dreaming premiered at the Unbound festival and was last performed by SF Ballet at Sadler's Wells Theatre in 2019. In Hurry Up, We're Dreaming, New York City Ballet's Peck created a piece that is "very balletic, but feels fresh, with a youthful authenticity" (The Guardian), setting his choreography in sneakers and to music by LA-based electronic band M83. Reid Bartelme and Harriet Jung designed the streetwear-inspired costumes, with lighting designed by James F. Ingalls. Included in The New York Times's "Best Dance of 2018" list, Hurry Up, We're Dreaming shows that "Mr. Peck means to shake up the norms of ballet, its partnering, gender, footwork. Surely good news for us all."
Meet the Artist interview: Friday, May 15, at 2:30 pm PDT
Friday, May 22, at 3 p.m. PDT
Bound To (March 27, 2019 SF Ballet capture)
Christopher Wheeldon's Bound To©, his tenth work for SF Ballet and created for the Unbound festival, offers a "luscious journey out of tech world" (San Francisco Chronicle). "The overarching theme is the disconnectedness of our time," Wheeldon says, "and how we are perhaps even more connected with our devices than we are with each other." Data sets splay across the stage and cell phones with illuminated screens feature prominently as dancers' props; music by singer-songwriter Keaton Henson sets the ballet. Wheeldon, whose Cinderella© opened the 2020 Repertory Season, won the 2015 Tony Award for "Best Choreography" for his Broadway hit An American in Paris. In Bound To, he creates his first ballet choreographed without pointe shoes, and for the first time pairs same-sex couples in tender pas de deux.
---
More Greer