Greer's Blog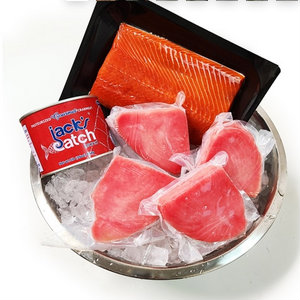 08.04.20
Attention seafood lovers! Santa Monica Seafood proudly presents Wild Bill a "Wild" selection of fantastic products and recipes curated by Chef Bill Bracken himself and designed to impress! Serves 2 - 4 people.
Chef Bill Bracken is an award-winning Executive Chef who was voted "Chef of the Year" by the California Restaurant Writers Association and has received rave reviews in publications such as Condé Nast Traveler, Bon Appétit, Food & Wine and Travel + Leisure.
What You Will Receive:
1 lb (14oz-16oz) Sockeye Salmon Portion
4 ea (6oz) Ahi Tuna Steaks (Check out Chef Bracken's Tuna Tartare with Avocados and Blood Orange recipe!)
1 can (16oz) Jumbo Lump Crab Meat (Check out Chef Bracken's Maryland Crab Cake recipe!)
Priced at $115 and available at smseafoodmarket.com.
And, with each purchase, part of the proceeds will go to Bracken's Kitchen to help with food recovery, culinary training, and community feeding program.
---
More Greer