Greer's Blog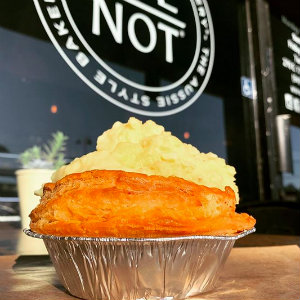 06.24.19
Pie-Not, the Aussie-style pie shop in Costa Mesa will sadly close on Sunday, June 30. Its Pacific City's LOT 579 food hall location in Huntington Beach already closed last week.
Its savory pies and pastries, as well as authentic Aussie desserts such as the Lamington, paired with 100% Australian coffee were beloved by fans for the past six years
"Pie-Not has been a labor of love from the start," said co-founder and owner, Ryan Lopiccolo. "We can't thank our community enough for their support and enthusiasm for Pie-Not over the past six years. We will miss our days in the shop baking and interacting with our customers."
Lopiccolo cited his need to run other family business interests as the main reason for the closure. He also noted that the company is under contract with another pie shop concept in the region, who will likely take over both Pie-Not locations and reopen after some light renovations and rebranding.
"I want our fans to know that the new owner was selected because they have a similar concept and principles and because we feel they are true 'pie hard' fans who will continue to serve our customers well," said Lopiccolo.
As a thank you for their devoted customers, Pie-Not is celebrating its last week — June 24 through 30 — with two "GoodPIE" specials:
Buy one pot pie in-shop or to go and get one half off.
Buy one, get one free on all frozen pot pies.
The owners also noted that there will likely be other discounts announced, and that fans should follow @pie_not on Instagram for all updates.
Open 11 a.m. to 8 p.m. daily.
Pie-Not is at 270 East 17th Street in Costa Mesa. 949.650.7437.
---
More Greer