Greer's Blog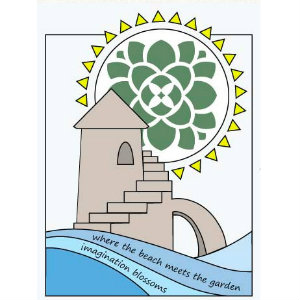 05.30.18
After 50 years, Sherman Library & Gardens, the nonprofit cultural center with beautiful gardens and an extensive historical research library is undergoing a major change – a new logo and an updated mission statement as the organization embarks on its 'Vision for the Future' initiative.
"Every gardener knows that gardens are not stagnant. They are full of energy and inspiration that changes, grows and evolves over time. An organization should do the same," said Scott LaFleur, Gardens Director at Sherman Library & Gardens. The original logo, a group of fuchsia with Sherman Library & Gardens in an ornate script, did not translate well to the needs of the digital era. "We needed an easily recognizable symbol that would work equally well on a large sign or on a hat in the gift shop," he added.
The process started over two years ago when Sherman Library & Gardens partnered with Laguna College of Art + Design. The Sherman became a case study for a Corporate Identity class. Students worked on a branding concept from logos and typeface, to signs and merchandise that would revitalize the Sherman Library & Gardens brand to reconnect the organization with a new generation.
To inspire the next generation of supporters, and advance the public's understanding of how Sherman Library & Gardens serves the community, the mission statement was refreshed as well:
Sherman Library & Gardens provides the public an oasis of inspiration, educationand appreciation of regional history, horticulture and the arts.
"While our priorities remain the same as when Arnold Haskell founded Sherman Library & Gardens in 1966, it has been refreshed to emphasize our three pillars of History, Horticulture and the Arts. I hope our new mission statement inspires the community join and support the organization," said LaFleur.
2647 East Coast Highway in Corona Del Mar. 949.673.2261.
---
More Greer