Greer's Blog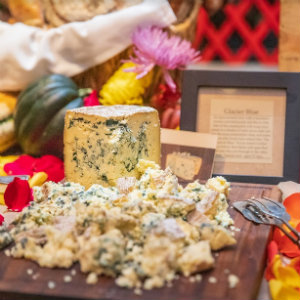 06.17.19
Cheese enthusiasts can look forward to SideDoor's bi-annual Ultimate Cheese & Charcuterie Backyard Party returning on Wednesday, July 17 from 5:30-8:30 p.m. Set in Five Crowns and SideDoor's picturesque outdoor patio and garden, the ultimate celebration of fromage is the culmination of SideDoor's popular monthly Cheese Takeovers and highlights all creameries featured in the series.
The final Cheese Takeover in the series takes place on Wednesday, June 19 starting at 4:30 p.m. and will present a curated portfolio of artisanal New England cheeses. For that evening only, featured cheeses will find their way into select SideDoor menu items. SideDoor's own certified cheesemonger, Tracy Nelsen, will be present at the Cheese Takeover and the Cheese Party to educate guests on the various cheeses showcased. A 5-piece cheese board is $28.
New this year, SideDoor will be collaborating with The Bruery for the Ultimate Cheese & Charcuterie Backyard Party. Specializing in barrel aged and experimental ales, the boutique, Orange County based craft brewery will have a representative on hand to offer guests the perfect beer pairings to complement their favorite cheeses.
Wednesday, June 19 – Cheese Takeover: featuring New England Cheeses from Various Creameries.
Hooligan: A ripe, washed rind stinky cheese | Cato Corner Farm, Colchester, CT
Mt Alice: A soft, creamy and savory cow cheese | Von Trapps Farmstead, Waitsfield, VT
Landaff: Has a natural rind and semi firm paste with brown butter notes | Landaff Creamery, Landaff, NH
Bonne Bouche: French for "good mouthful", an ashed soft goat cheese | Vermont Creamery, Websterville, VT
Nancy's Camembert: A blend of cow and sheep milk it is mellow with a nice tang | Old Chatham Creamery, Old Chatham, NY
Bandaged Bismark: An Amish farmer's sheep's milk that develops a caramel sweetness as it ages | Crown Finish Caves, Brooklyn, NY
Harbinson: A small, bark-wrapped bloomy rind cheese | Cellars at Jasper Hill, Greensboro Bend, VT
Wednesday, July 17 – Ultimate Cheese & Charcuterie Backyard Party: featuring all cheeses from February–June and beer pairing from The Bruery.
English Cheeses (February)
Hook's Cheese, Mineral Pt., WI (March)
Pennyroyal Farm, Boonville, CA (April)
Sweet Grass Dairy, Thomasville, GA (May)
New England Cheeses from Various Boutique Creameries (June)
Ultimate Cheese & Charcuterie Backyard Party ticket: $95 per person. Ticket includes unlimited samplings of all featured cheeses and charcuterie plus complimentary beer pairings. To purchase tickets for the Ultimate Cheese & Charcuterie Backyard Party, visit https://bit.ly/2wUZ2vK.
SideDoor is at 3801 East Coast Hwy in Corona Del Mar.
---
More Greer