Greer's Blog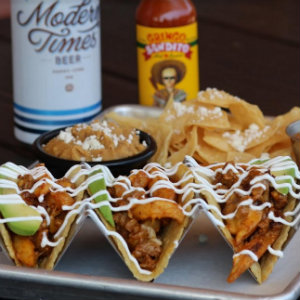 07.17.17
Not only has Slidebar Rock-N-Roll Kitchen in Fullerton won awards for being one of Orange County's best live music destinations, but their menu offerings are equally noteworthy. Slidebar recently launched a must-try new taco in partnership with Gringo Bandito Hot Sauce. The "Cali Bandito Taco" is a spin on the late-night staple, the California Burrito. The taco is prepared using house made tortillas and topped with Gringo Bandito red marinated carne asada, french fries, cheddar cheese, sour cream and avocado crème.
Gringo Bandito Hot Sauce was founded in 2004 by Dexter Holland, frontman of the multi-platinum Orange County group The Offspring. And, Slidebar Rock-N-Roll Kitchen was founded in 2006 by Jeremy Popoff, member of OC's very own rock icons Lit. Gringo Bandito Hot Sauce has been on a roll lately, over a million bottles sold and now there are three popular flavor varieties. All tables at Slidebar have two bottles of Gringo Bandito, so that you can try it with each dish.
Other highlights from Slidebar's menu include the Carne Asada Fries or Tots covered with refried beans and carne asada topped with pico de gallo, quest fresco, and sour cream; Mac N Cheese Balls From Hell, Slidebar's Signature Mac N Cheese folded with savory bacon and diced jalapeño, rolled into panko bread crumbs and fried to a golden brown and served with habanero aioli for an extra kick.
Favorites from the "Headliners" include the California Burrito with marinated steak, French fries, cheddar and Monterrey Jack cheese, sour cream and avocado. Served with chips, salsa, and a side of beans; and the Firecracker Spaghetti tossed in a spicy firecracker sauce and served with seasoned chicken, broccoli, and dry-roasted peanuts. For something a bit lighter, go for the Firecracker Lettuce Wrap, with chicken breast, garlic, peanuts, broccoli, and our firecracker sauce wrapped in butter lettuce.
The dessert, a Whammy Bar is incredible, they take dense brownies with chocolate chip cookie dough fried in funnel cake batter. It comes with vanilla ice cream and chocolate sauce. Anyone who loves decadent desserts will love this.
Don't miss Happy Hour from 4 to 7 p.m. Wednesday; noon to 7 p.m. Thursday and Friday. You can enjoy special priced cocktails, draft beers and small plates. They also offer weekly specials, too!
Open 4 p.m. to 2 a.m. Tuesday through Wednesday; noon to 2 a.m. Thursday and Friday; 11 a.m. to 2 a.m. Saturday; 10 a.m. to 2 a.m. Sunday.
122 E Commonwealth Ave. in Fullerton. 714.871.2233.
---
More Greer