Greer's Blog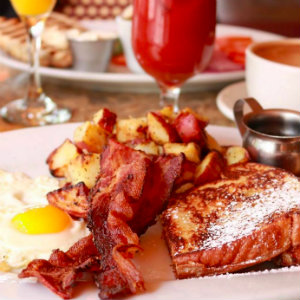 02.19.19
One of Orange County's most popular Mexican restaurants, Sol Agave, is now serving Sunday brunch at its Kaleidoscope location in Mission Viejo. Known for its authentic Mexican cuisine, the buffet-style brunch is available from 10 a.m. to 2 p.m. every Sunday.
Sol Agave's brunch includes a wide selection of seafood, including shrimp, salmon, fresh seasonal fish, grilled vegetables, fresh fruit, salads, pozole, chili verde, pollo a la chipotle, and assorted tacos with grilled meat and fresh house-made corn tortillas.
The brunch is only $25 for adults, $12 for kids to age 12, and children 4 and under can eat free. During brunch, guests can also enjoy $3 mimosas and $5 micheladas and bloody agave cocktails.
Restaurateur Jesus Galvez and his partner Chef Manny Velasco, who was honored as the Golden Foodies 2017 Rising Star Chef of the Year, were at the forefront of the food truck trend when they started Sol Agave as a food truck in 2015. They attracted such a loyal following for their upscale Mexican cuisine that they decided to open a restaurant in San Juan Capistrano in 2015. The success of that original location lead to moving into a larger space within the same retail center just a year later, and the second Sol Agave opened at Kaleidoscope last year.
The restaurant is acclaimed for its authentic dishes, organic ingredients, fresh seafood, USDA Prime steak, and all-natural pork for its carnitas. Sol Agave also has numerous popular hand-crafted margaritas and cocktails including the Table Side Old Fashioned (Hornitos Black Barrel añejo tequila, corazon chocolate bitters, a splash of agave and mango) infused and flamed tableside with rosemary and orange.
Sol Agave is open Monday through Thursday from 11 a.m. to 9 p.m., and Friday and Saturday from 11 a.m. to 10 p.m., and Sunday from 10 a.m. to 9 p.m., with a daily Happy Hour from 3 to 6 p.m.
The restaurant is located on the top level of Kaleidoscope at 27741 Crown Valley Pkwy. in Mission Viejo. 949.446.8058.
---
More Greer