Greer's Blog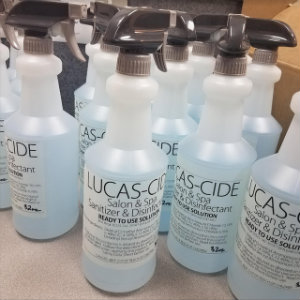 03.19.20
If you've been to a grocery store, or even online you'll find there's a shortage of disinfectants, among other things. Spa Gregorie's came to rescue and is offering hospital-grade disinfectant which kills more germs than any over-the-counter product you can buy. They have enough on hand to be able to offer to you for your use at home. It's called Lucas-Cide - click HERE for a list of all the pathogens it kills.
Gregorie's is selling it for $1.50 per ounce. You can bring your own bottle or purchase one of theirs for $8. On Friday or Saturday, they will receive 500 hand sanitizers, too. You can pick up items at their Newport Beach or Rancho Santa Margarita locations.
They are also donating 10% of products on hand to Senior Centers. If you have a referral center, you can let them know.

Daily stress can also stress out your skin. Keep your healthy skin in shape with regular homecare. Use a good cleanser, toner, exfoliating 1-2 x per week, hydrating day and night, and using SPF 30 sunscreen AT A MINIMUM.

Through March 31, save 15% OFF all homecare. Use coupon code COVID15. Shop online at shop.spagregories.com/

Turn your bathroom into a spa and decongest your lungs. A few shots of their Eucalyptus shower mist into a hot stream of water will fill the air with therapeutic and soothing Eucalyptus scent. Made from pure high-grade Eucalyptus oil which is anti-inflammatory, antispasmodic, decongestant, deodorant, and antiseptic, among other valuable properties. Just $36

Also, want to WIN a free massage? To win, just text SPALOVE to 94253.
200 Newport Center Dr Suite 100, Newport Beach. 949.644.6672.

30212 Tomas #150, Rancho Santa Margarita in Rancho Santa Margarita. 949.858.9455.
---
More Greer