Greer's Blog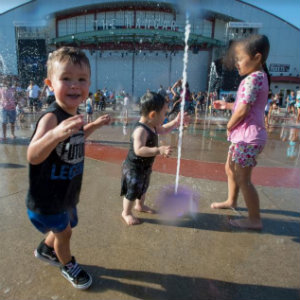 07.31.18
There are hot days in the forecast during the OC Fair continuing through Sunday, Aug. 12, yet there are plenty of ways to keep cool.
All Fair guests are encouraged to be aware of the heat and follow good common-sense practices. Personal water bottles (empty on entry), sealed water bottles, soft-sided coolers and snacks from home are all allowed. Water stations are being added at all three main gates and at information booths as the forecasts predict warmer weather ahead.
Here are some fun ways to keep it cool at the OC Fair:
Splash fountain: It's an OC Fair classic! The crazy water fountain in front of The Hangar is a kid favorite and quite likely the coolest place to be. Families in the know pack an extra set of clothes for the little ones. Snap some pics, because you'll want to capture those drippy grins.
Water rides: Pelican Splash in Kid Land and Wild Rivers in the big carnival bring squeals of delight as the cars splash down and cool down the riders.
Pause and refresh: With misting stands in three locations, it's a good idea to take a break and stand under the sprayers to take your temperature down a few notches.
Up above it all: Do not miss the chance to get the best views of the Fair and catch a breeze on the Sky Ride and the two open-air Ferris wheels in Kid Land. Top tip: Head to La Grande Wheel XL for a spin in air-conditioned cabins on the biggest ride on the midway.
Frosty goodness: Indulge in frozen treats like ice cream sundaes, shave ice, icy lemonade, smoothies, boba tea, ice cream tacos, gelato, Italian ice, Dole whip and more.
Get inside: The air-conditioned shopping and exhibit buildings are the place to be when fairgoers want to get out of the sunshine. It's a terrific opportunity to check out the woodworking and craft exhibits as well as visual arts, pottery, jewelry and culinary arts.
Crafty cocktails: Inside the Culinary Arts building is a new attraction, Craft Bar, featuring farm-fresh mocktails during the day and cocktails after dark, with spirits from Drift Distillery in San Clemente. There are even demonstrations to teach you to create your own.
Special exhibit: Observe some cool art while cooling off at the Museum of Agrarian Art, a curated display of digital reproductions of famous artworks depicting agriculture themes. It's located in the Visual Arts building and open till 11 p.m.
The OC Fair is open noon to midnight Wednesday-Friday; 11 a.m. to midnight Saturday-Sunday. Closed Monday-Tuesday.
The OC Fair is at 88 Fair Drive at Costa Mesa.
---
More Greer