Greer's Blog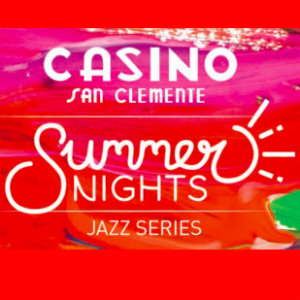 07.13.17
The Summer Nights Jazz Series starts tonight at the Casino San Clemente. Doors open at 6 p.m. with music starting at 7 p.m, allowing ample time to enjoy the ocean view Patio of the Stars, cash bar hosted by the Ruin Bar and light bites for advance purchase from Healthy Junk and Center St. Cheese Shop. Music tickets are a nominal $10/each online at brownpapertickets.com (reference "summer nights jazz") or $10/each at the door for last minute guests.
For the inaugural night and back by popular demand is the Tim Gill Quintet, a rabble-rousing jazz group specializing in hot jazz and early swing with salutes to Louis Armstrong and Fats Waller and sure to cool the room with conversation and interplay.
The series continues every other Thursday through September 28 and features award winning and varied jazz performers including: Leonard Thompson with "jazzed" sounds of piano and organ; Ron Stout, virtuoso trumpeter belting straight ahead jazz; Josh Nelson, renown composer and jazz pianist and his band; the Danny Green Trio with Brazilian jazz favorites; and Elizabeth Lamers, songwriter and sultry jazz vocalist, a favorite at the Casino San Clemente, who is planning an exclusive CD release and signing celebration on the closing evening – details forthcoming.
For more information on the Casino San Clemente as a renovated seaside private event venue, please visit thecasinosanclemente.com or call 949.369.6600.
140 W. Avenida Pico, in San Clemente.
---
More Greer