Greer's Blog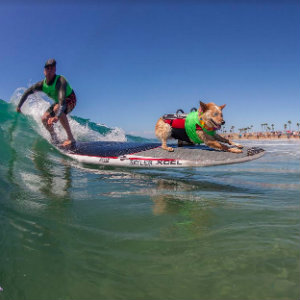 09.27.18
Surf City Surf Dog is celebrating a decade of dog surfing and fundraising for pet-related charities! The 10th Annual Surf City Surf Dog competition will take place on Saturday, September 29 at Huntington Dog Beach, which is also celebrating its 20th anniversary. The world's best surfing dogs will once again compete for barking rights, trophies and prizes. Charity partners include Barks of Love, Huntington Dog Beach, French Bulldog Rescue Network, Orange County SPCA, Southern California Golden Retriever Rescue and Westie Rescue of Orange County.
More than 500 dogs have participated in this unique sport, hailing from the UK, Australia, Canada, Brazil and all corners of the United States. The weekend-long celebration will showcase the best in dog surfing, pet adoptions, and pet social activities, while providing engaging beach activities for the entire family to enjoy.
The main event, the dog surfing competition is on Saturday, September 29 at Huntington Dog Beach from 8 a.m. to 2:30 p.m. The contestants will compete in Shredder/pro heats, owner and handler weight-class divisions, as well as a tandem heat and Stand Up Paddle heats. The surf dogs will be judged by professional surf judges on a variety of skills, including the length of their ride and difficulty of wave and maneuvers. All dogs are winners and will receive a commemorative participation medal, though trophies will be awarded to the top dogs in each category. The event ends with closing ceremonies and award presentations. It is free to spectate and there is a complimentary McKenna Shuttle from City Hall at 200 Main Street to Dog Beach at 100 Goldenwest Street and Pacific Coast Highway.
In conjunction with the McKenna Subaru Surf City Surf Dog Event, the weekend kicks off with an Opening Ceremony/Pooch Pawty on Friday, September 28th at the Shorebreak Hotel located at 500 Pacific Coast Hwy in Huntington Beach. There will be fun, interactive photo booths, pawtographs by famous surf dogs, costumes and more.
---
More Greer