Greer's Blog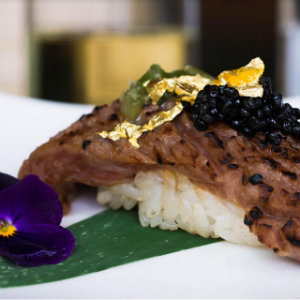 03.20.18
Sushi Roku Newport Beach received a special delivery of award-winning Bungo Wagyu available now through Sunday, March 25 with a tasting menu that pairs three Wagyu appetizers with three distinct Japanese spirits. The limited-time-only tasting menu features Bungo beef, considered the highest-quality Japanese grade beef, originating from the Oita prefecture in the Kyushu region of Japan.
The award-winning meat, which has received accolades from the Tenno-sho (Emperor's Prize) and Japan's Ministry of Agriculture, Forestry, and Fisheries, will be offered in three simple preparations to preserve its rich, delicious flavor—a skewer, sushi, and steak—matched with refined spirits originating from Japan that delicately enhance each dishes' overall profile.

The Bungo Wagyu Beef tasting menu will be offered at Sushi Roku Newport Beach, as well as sister restaurant ROKU Sunset in West Hollywood, and will be priced at $85 (exclusive of tax & gratuity). The menu features the following three appetizer flights and beverage pairings thoughtfully chosen by Sushi Roku GM & Sake Sommelier, Eiji Mori:

Bungo Wagyu Skewer paired with Ginza no Suzume Kohaku Shochu: this light shochu is distilled from barley sourced from the same region of the premium Bungo beef in Japan (Oita) and is aged in re-purposed American white oak bourbon barrels giving the product a golden tint, and oaked, smoky nose and taste.

Bungo Wagyu Sushi paired with Soto Sake: much in alignment with the quality of the Wagyu cut, this is a premium junmai daiginjo sake from Niigata, Japan, and an all-natural, gluten-free sake that has an elegant aroma, with a smooth taste of fresh apple, cucumber, and a hint of lime zest.

Bungo Wagyu Steak paired with Akashi Whisky: this whiskey is named after its hometown, translated as the "Sun Rise City," from Kobe Bay in Hyogo, Japan. This blended whiskey is smooth and light on the pallet with hints of apple, pear, and peat.

Sushi Roku Fashion Island is at 327 Newport Center Drive in Newport Beach (adjacent to Macy's, across from True Food Kitchen).
For more information or to make reservations, visit sushiroku.com.
---
More Greer