Greer's Blog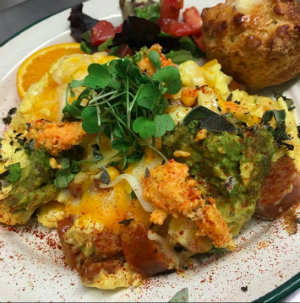 06.21.18
Sweet Dixie Kitchen, the popular southern-style eatery located in Long Beach's East Village Arts District, will transition into Pyru After Dark every Wednesday through Friday from 6-10 p.m. beginning June 20. The pop-up restaurant, which will operate through the summer, features guest chefs Remy Bisharat and Melissa Ortiz who will go behind the kitchen door to create an evening experience at the breakfast and lunch destination.
The culinary duo is known for their farm-to-table feasts and globally-influenced small plates featuring organic fermented and brined offerings. The menu will change weekly and can be enjoyed indoors or on the restaurant's sidewalk patio.
Why rosé all day when you can enjoy bottomless rosé every Thursday night from 5 p.m. to closing? Buckets of beer at cheer-worthy prices will be offered Friday evenings as well.
"We wanted to fill a void in this part of Downtown Long Beach," said Sanchez. "There are plenty of gastropubs, wine bars, and coffeehouses nearby, but nothing quite like what we're creating."
Sanchez, a native of Northern California and former model, fell in love with southern cooking when she moved to Atlanta in the 1990s where she spent a few years learning to cook in a popular restaurant. Armed with culinary talent and plenty of confidence, Sanchez ventured out on her own and opened a catering company where she quickly developed a loyal following of corporate and social clients. Eventually, she moved back to California and opened Sweet Dixie Kitchen.
The restaurant, which is open for breakfast and lunch Wednesday through Monday, churns out a menu of Southern Street Food that includes hearty breakfasts, biscuitwiches (southern-style sandwiches using biscuits instead of bread), traditional sandwiches, decadent desserts and homemade pastries, such as hand-scones, almond twists, sour cream coffee cake and breakfast tea breads. House-made lemonades, milkshakes, ice cream floats and French press coffees are offered, too. A selection of wine is also available during lunch.
"Pyru After Dark will be an extension of Sweet Dixie Kitchen," added Sanchez. "I think it's exactly what the neighborhood needs at this moment – a place to kick back, meet-up with friends and ease into the weekend with good food, great wine and ice-cold beer."
Sweet Dixie Kitchen is located at 401 E. 3rd Street at the corner of Elm Avenue in Downtown Long Beach's East Village Arts District. The restaurant is open Wednesday through Monday daily at 8 a.m., 9 a.m. on Sundays, and closes at 3 p.m. most days. The restaurant will transition to Pyru After Dark beginning June 20th every Wednesday, Thursday and Friday from 6-10 p.m. For more information, call 562.628.2253 or visit sweetdixiekitchen.com.
Delivery available through Postmates and Grubhub.
---
More Greer