Greer's Blog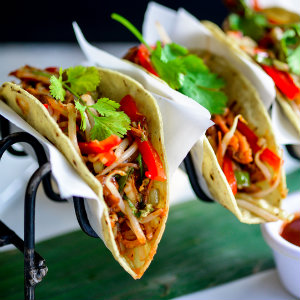 04.01.19
Just in time for warmer spring and summer weather, Taco Rosa in Irvine expanded its covered & heated patio (adding 80 seats) to include a total of 120 additional outdoor seats.
Chef-owner Ivan Calderon has also introduced variety of unique taco specials including Lobster Chorizo Tacos, Sweet Potato Tacos, Korean BBQ Tacos, and a Tabilta de Tacos for Two. The new outdoor patio also includes additional bar seating at its renovated indoor/outdoor bar.
Enjoy new agave-sweetened drinks including a Noir Cadillac Margarita and Chikka Cocktail. Since its inception in 2006, Taco Rosa has been committed to sustainability by using artisan water, produce sourced from hyper-local, regenerative farms, wild seafood guided by Seafood Watch, and humanely raised meats - most recently sourcing local GMO-free corn for all its masa-based products - which are locally produced at the concept's sister restaurant Taco Mesa Tortillleria Orgánica & Café in Orange.
Taco Rosa (Irvine) is at 13792 Jamboree Road in Irvine.
---
More Greer