Greer's Blog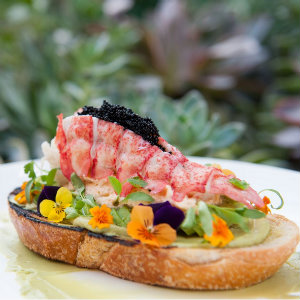 07.30.18
Tangata, a Patina Restaurant Group concept located at Bowers Museum in Santa Ana, just appointed Brian Kiepler as the new executive chef. Kiepler, who is a longstanding member of the Patina Restaurant Group family, previously worked as the executive chef of both Nick & Stef's Steakhouse and the Los Angeles County Museum of Art (LACMA). Kiepler brings a refreshed menu to the restaurant, adding a unique twist to the Pacific Rim inspired cuisine.
Kiepler's updated menu reflects global influences from his diverse culinary background—including that of the Pacific Rim—resulting in menu items to satisfy every palate.
Starters include Grilled Asparagus with garlic, ginger, soy, tofu, and charred lemon; and Crab Cakes with a grilled pineapple relish, chipotle aioli, and soft herbs.
Main courses for lunch include Blackened Salmon and Quinoa with orange, avocado, watercress, tomato, red onion, and caraway-yogurt dressing; Roast Pork with Filipino adobo, gingered cabbage, lime mayo, and fries; and Marinated Japanese Tomatoes with miso, avocado, cucumber, shallot, seaweed, and fried Togarashi croutons. Brunch highlights include a Brisket Breakfast Burger with house-made ground brisket, fried egg, bacon, cheddar, aioli, and baby greens; Chilaquiles with ranchero sauce, avocado, onions, cotija cheese, corn chips, and fried eggs; as well as staples such as the Brioche French Toast with Vermont maple syrup, whipped butter, and fresh berries.
Through September 2, guests can indulge in Lobster & Rosé at Tangata, a limited-time-only lobster brunch dishes paired with Domaine de Cala rosé, such as Corn Chowder with grilled lobster sausage, Lobster Grilled Cheese, or a Lobster Cobb Salad (prices vary).
Tangata, which does not require museum admittance to dine, is open for lunch Tuesday through Friday from 11 a.m.-3 p.m. and for brunch on Saturday and Sunday from 11 a.m.-3 p.m.
2002 N Main St., in Santa Ana. 714.550.0906.
---
More Greer