Greer's Blog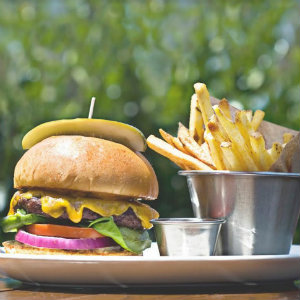 09.14.17
TAPS Fish House & Brewery in Brea is celebrating its 18th anniversary by serving TAPS Signature Burger for $1.99 (signifying "1999," the year of opening) on Fridays through September, with purchase of any beverage.
The anniversary special, regularly priced at $15.49, will be served in the bar/lounge and dining room. It's available from 11 a.m. to 3 p.m. or until the restaurant serves 300 burgers.
Fridays, September 15, 22 and 29, 11 a.m. until 300 burgers are sold.
TAPS Burger is a hefty eight-ounce custom blend of aged choice Angus chuck, short rib and brisket, and layered with sharp cheddar cheese, red onion, tomato, pickle, remoulade and butter lettuce. It's served on a toasted brioche bun with TAPS garlic parsley fries. You can also customize your TAPS Burger with bacon, sautéed mushrooms, guacamole, avocado, jalapeños, fried egg or a double patty for an additional charge.
TAPS' director of brewery operations, David Huls, has five lagers on tap, all which would pair well with the TAPS burger. They are: Amend This! an American Pre-Prohibition Lager; DAs Boooze! A German Pils; Vienna Lager; Schwarzbier and Boppeldock, a German Doppelbock.
TAPS Fish House & Brewery is at 101 E Imperial Hwy, Brea. 714.257.0101
---
More Greer