Greer's Blog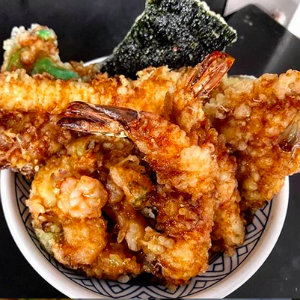 10.29.19
Tempura Chef Carlos A. Pinto of Hannosuke Restaurant will open his first restaurant in Torrance on Friday, November 1. To welcome local residents, Pinto will offer 100 bowls of his signature tempura-don dish FREE OF CHARGE on Friday, November 1 only, to the first 100 people who follow the restaurant's Instagram page.
Chef Pinto lived in Japan for 12 years and was trained at Tempura Hannosuke Restaurant both in Tokyo and Torrance, which was described by the late Los Angeles Times food critic Jonathan Gold as a well-known Tokyo restaurant chain, that serves "delicious ten don, tempura-topped rice bowls."
Pinto arrived in Tokyo in the mid-1960s during the period of Japan's booming economy leading up to the 1965 Tokyo Olympics. A native Peruvian, Pinto spoke no Japanese and often felt lonely; but he soon began to appreciate Japanese cuisine, especially tempura, a traditional dish consisting of seafood and vegetables that are lightly battered and deep-fried.
After moving to the U.S., Pinto continued his love for Japanese cuisine by working at several Japanese restaurants. In 2014, he learned that the revered Tokyo tempura bowl restaurant, Hannosuke, was opening in Torrance. He wasted no time knocking on the door, eventually mastering the entire technique and operation. Inspired by Kaneko Hannosuke, who reinvented the Japanese dish of Tendon with tempura, Pinto is going to open his own restaurant featuring this very dish. He is excited to cook Tokyo-style tempura for LA's many discerning foodies, and especially to celebrate the second Tokyo Summer Olympics next year.
Pinto uses only plant-based oil in his dishes. His sesame oil is made strictly with Japanese sesame seeds, noted for their superior flavor and fragrance. Using locally-sourced ingredients, Pinto's tempura recipe is modeled on the secret tempura batter he loved while living in Japan. With the ingredients that are available in the U.S., he has been able to recreate the unique moisture, texture, and taste of his favorite tempura sauce. Pinto's batter also uses eggs extensively to ensure that the tempura is crispy, creating a perfect balance with this rich original sauce.
Tendon Tempura Carlos Junior's menu consists of three primary dishes: Tendon, Tempura and Tempura Soba Combo. Tendon is a rice bowl topped with deep-fried seafood and vegetables. Pinto's restaurant features five kinds of Tendon. The Edomae Tendon (or Premium Tempura Bowl) is a Tokyo-style tempura topped rice bowl with deep-fried agano (or salt-water eel), shrimp and soft-boiled egg, nori, kakiage and shishito. The agano is lightly frozen and shipped by air from Tokyo to ensure that it remains very fresh. The other Tendons include Special Tempura Bowl, Regular Tempura Bowl, Shrimp Tempura Bowl and King Crab Tempura Bowl. Tempura dishes include Edo-style Premium Tempura Plate, Special Tempura Plate, Regular Tempura Plate, Shrimp Tempura Plate and King Crab Tempura Plate that come with a side of steamed rice, soup, and pickles.
There are five Combos: Tempura and Soba, Small Tempura Bowl and Soba, Big Shrimp and Soba and Dipping Soba Noodle with Shrimp. These Tempura and Soba Combo's are served with either hot soba noodle soup or chilled soba noodles. The Kids Tempura Bowl Combo includes shrimp, soft boiled eggs, nori, dessert and soft drink.
The restaurant will serve alcoholic beverages including beer, sake, and shochu.
The much-anticipated restaurant has 40 seats and will be open daily from Monday through Sunday from 11 a.m. to 9 p.m. The restaurant is closed on federal holidays.
1510 Cabrillo Ave, Torrance. 424.488.2313.
---
More Greer