Greer's Blog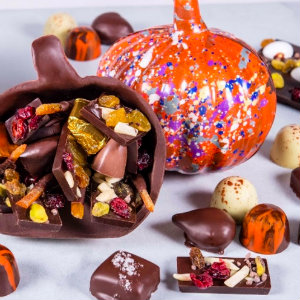 11.25.19
You can pick up the best in Thanksgiving Day treats at Valenza Chocolatier Pop-Up Shop on Tuesday, Nov. 26 from noon to 7 p.m. (while supplies last) at The Hood Kitchen Space in Costa Mesa
All of Valenza Chocolatier's seasonal bonbons, bars, and confections make the perfect Thanksgiving Day hostess gift and pair well with pumpkin pie, a memorable dessert or a fall-theme charcuterie board!
You can choose from a Harvest Collection Variety Sleeve: Bonbon flavors of Pumpkin Spice, Tiramisu, Espresso, Caramello, Gianduiotti Classico & Maximo, Confetti Bar, Nocciole Bar - Milk & Dark, Nib Bar, Caramello Sleeves and a Tartaruga - 5-Piece Box & Single.
The Hood Kitchen Space is at 350 Clinton St. in Costa Mesa.
---
More Greer