Greer's Blog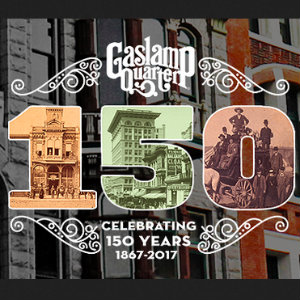 11.06.17
The Gaslamp Quarter in San Diego celebrates 150 years on Tuesday, Nov. 7 with a party that that has been 150 years in the making.
The Hard Rock Hotel will play host in the early part of the evening on the Woodstock Green with hors d'oeuvres stations from Barleymash, Challenge Dairy, Tin Roof, The Melting Pot, Parq Restaurant and Nightclub, Queensborough, Meze Greek Fusion, Henry's Pub, and newcomer Havana 1920 starting at 5:30 p.m. As guests enjoy the delicious food, they can bid on exclusive silent auction items, listen to the sultry sounds of "K Emeline and the Fellas," and vote for their favorite "Dusty Rabbit" 150th Anniversary signature cocktail.
At 7 p.m. guests will go to Fifth Avenue for a three-course, gourmet meal by Cohn Restaurant Group, which has for over 33 years brought San Diego dining to a new level. The meal will be designed by Executive Chef Samuel Geffroy of Gaslamp Quarter's own Blue Point Coastal Cuisine. Each property of Cohn Restaurant Group guarantees superior service and aesthetic comfort, providing a premiere dining experience for each guest attending the 150th celebration. While enjoying the delectable cuisine, guests will be entertained by music of the 18- piece "Big Band Express" orchestra.
An important part of the 150th Anniversary has been a public art campaign titled "Rabbitville". 150 years ago, the area that is now the Gaslamp Quarter was jokingly nicknamed, "Rabbitville" after its chief inhabitants. The "Rabbitville" public art program honors the pioneering spirit of legendary founder, Alonzo Horton, who transformed "Rabbitville" into modern San Diego. 15 fiberglass rabbit statues have been decorated by different local artists commemorating the 150th Anniversary and San Diego.
These 150th Anniversary tributaries have been hopping around to different exhibitions thanks in part to the local artists who decorated them, and the Downtown Partnership Clean and Safe crew.
The final six will be showcased at the Gala and put up for auction. This is the chance to own a piece of the 150th celebration. The rabbits will be on exhibition to the public until May 24, 2018.
During the live auction, there is also an opportunity to bid on a first pitch at a Padres Game, a 16 person suite at Petco, $1000 worth of parking from the 6th and K Parkade, or a four foot custom oil painting titled, "The Road We Have Walked" painted by Michael J Wolf Gallery headline artist, Pete Tillack. This painting was created to commemorate the 150th celebration.
After the live auction, guests can enjoy desserts from Sensational Treats, and dancing to the sounds of "Big Band Express" while taking in the beauty of the famed Gaslamp Quarter. The after party will be at Henry's Pub, where guests who want to keep the party going can turn in their table ticket for a free drink, and find out the final after party opportunity drawing prize.
For more information on events and promotions log onto, .gaslamp.org/150
---
More Greer