Greer's Blog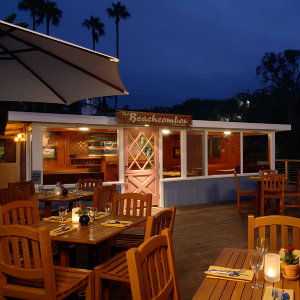 11.08.17
The Beachcomber at Crystal Cove is Orange County's perfect destination to capture an endless summer. The dining destination unveils its winter menus for breakfast, lunch, and dinner just in time for the change of season. Taste the flavors of winter such as Coconut-Macadamia Pancakes, Filet Mignon Chili, and Baked Bleu Tomato Soup while still enjoying laidback summer vibes at the serene, beachfront dining destination.
Menu Highlights:
For Breakfast, you can enjoy Beachcomber Beignets, A basket of puffy treats with powdered sugar, syrup and whipped cream, $9.95; Avocado Toast, avocado, heirloom cherry, tomatoes, red onion, arugula, micro ruby radish, goat cheese, poached eggs, balsamic glaze reduction, sourdough toast, $15.95; Coconut-Macadamia Pancakes, a Beachcomber favorite – Lemon zest coconut pancakes with macadamia nuts baked right in served with warm, coconut syrup, $12.95; Breakfast Pizza, scrambled eggs, tomato sauce, mascarpone mousse, olive oil, arugula, $12.95; and Crab Cake Benedict, with Blue crab cakes, hollandaise and English muffin, $18.95.
For Lunch, there's the Filet Mignon Chili, Filet mignon, beans, cheddar cheese, onions, sour cream, brioche croutons, $9.95; Alaskan Cod Fish & Chips with French fries, tartar sauce, $16.95; Maine Lobster Club, diced Maine lobster tarragon salad, avocado, tomato, bacon, lettuce, mango aioli, toasted brioche bread, fries, $21.95; and Banh Mi Tacos, oven roasted sliced pork, pickled cucumber, carrots, jalapenos, red radishes, flour tortillas, tomatillo sriracha sauce, mixed green salad, lime vinaigrette, $15.95.
For Dinner, there's a Baked Bleu Tomato Soup, pureed roasted organic tomatoes, bleu cheese, puff pastry crown, $10.95; Blue Crab Stuffed Salmon, potato puree, shitake mushroom and haricot vert, lemon caper beurre blanc, $29.95; Lobster Linguini Pasta, a butterflied Australian lobster tail, tomato basil sauce, sweet cherry tomatoes, fresh basil chiffonade, $35.95; Prime Filet Mignon, an 8oz. Bleu cheese crusted prime filet, potato puree, crispy onion, asparagus, port wine sauce, $46.95; Lamb Sirloin, roasted lamb, rosemary au jus, asiago gnocchi, basil parmesan pesto, mint, $26.95.
Open 7 a.m. to 9:30 p.m. daily.
The Beachcomber Café at Crystal Cove is at 15 Crystal Cove in Newport Coast.
---
More Greer