Greer's Blog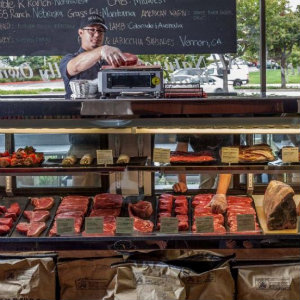 11.16.17
The Butchery has teamed up with Bracken's Kitchen for the holidays. When placing your pre-order, mention Bracken's Kitchen, and they will provide a healthy and delicious meal to those in need. Bracken's Kitchen was founded with the sole intent of using food to make a difference in the lives of those they serve.
The Butchery is a full-service butcher shop known for high-quality meats, artisan cheeses, craft beers, and wines. The three Orange County locations in Brea, Costa Mesa and Newport Coast are stocked with the highest quality beef, pork, poultry, and cheeses sourced from the finest farms, ranches, and purveyors. Selections can be hand-cut to order and include top choice and prime beef, grass-fed beef, all natural pork, and poultry.
Specialty meats like dry-aged beef and wagyu as well as exotics like bison and venison are also offered, along with locally made sausages, ground beef prepared in-house and a full deli case. The shops also feature a large selection of popular in-house marinated meats for grilling, fresh-made sandwiches, specialty grocery products such as fresh baguettes, spices, spreads, deli accompaniments like their popular chips and salsas, and a vast selection of high-end wine and craft beers. For more information visit ButcheryMeats.com.
Open 9 a.m. to 8 p.m. daily.
103 E 17th St. in Costa Mesa. 949.548.6328.
Open 10 a.m. to 8 p.m. Monday through Friday; open 9 a.m. to 8 p.m. Saturday and Sunday.
415 South Associated Road in Brea. 714.529.6328.
Open 9 a.m. to 8 p.m. daily.
8058 E Pacific Coast Hwy. in Newport Coast. 949.715.3383.
---
More Greer