Greer's Blog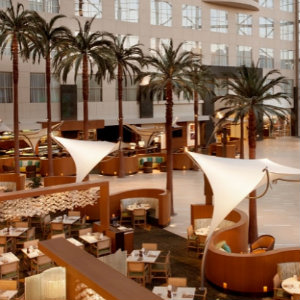 11.17.17
Tusca, the award-winning, signature restaurant at Hyatt Regency Orange County, is offering a three-course decadent Thanksgiving dinner from 6 p.m. - Midnight on Thursday, Nov. 23.. The "Fall into Flavor" Thanksgiving dinner accommodates families on a budget without sacrificing flavor and is priced at $25 per adult (plus tax and gratuity) for the full three-course menu while kids 7 - 12 receive 50% off with a paying adult and Kids 6 and under dine free with a paying adult There is also the option to purchase only the main dish second course at $18 per adult. Complimentary valet parking is available for three hours with validation from TusCA. For reservations, call 714.740.6047, email alica-outlets@hyatt.com or visit orangecounty.regency.hyatt.com.
The Hyatt Regency Orange County's "Fall into Flavor" Thanksgiving Dinner menu is comprised of a three-course compilation of traditional and modern favorites. First Course: Flavorsome Appetizers Butternut Bisque, Cranberry Crème Fraîche, Crispy Sage; or Spinach and Radicchio Salad with Granny Smith Apple, Candied Pecan, Dried Cranberry, Pomegranate Vinaigrette.
The second Course is Satiating Protein, and Enticing Starches---Maple - Brined Turkey, Honey - Glazed Ham, Whipped Red Potato, Sausage and Apple Focaccia Stuffing served with Mandarin - Cranberry Sauce and Gravy (Dark Meat Upon Request).
The third Course is Sweet Treats--Traditional Pumpkin Pie, Vanilla Whip Cream; or Grandma's Apple Pie A La Mode with Vanilla Ice Cream.
11999 Harbor Blvd. in Garden Grove.
---
More Greer