Greer's Blog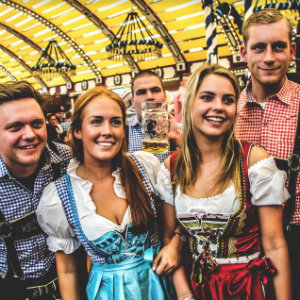 10.10.18
Newport Dunes Waterfront Resort welcomes the inaugural 2018 OCtoberfest OC happening Saturdays and Sundays from noon to 8 p.m. now through Oct. 21.
The Newport Dunes is transformed into a world-class Oktoberfest event inspired by the spirit of Munich, Germany with the charm of Southern California in a picturesque waterfront setting.
Enjoy authentic German cuisine including Bavarian bratwurst, schnitzel, potato salad, sauerkraut, strudel, soft pretzels and more. Toast to friends with a variety of German biers and Orange County-brewed craft bier.
Octoberfest OC has put together the perfect mix of authentic and eclectic talents to bring you Bavarian humor, classic Oktoberfest themes, and the best of favorite sing-along songs to serve as the soundtrack for fun filled afternoon. Two stages will showcase a full lineup of events and entertainment hosted by Burgermeister Peter von Melton and world-famous yodeler, Kathrin Jakob with a special appearance by Kara Eldridge. Authentic Bavarian Polka Rock band, Hammerstein will headline the festival except for October 13 & 14 which will feature Oktoberfest party band, Hazelnuss. Throughout OCtoberfest, experience München Oompa Loompa dance music interactive games, dancing, log-sawing competitions & more.
For additional event information and to purchase OCtoberfest tickets please visit octoberfestoc.com.
Limited Onsite VIP Parking at Newport Dunes for $20 per vehicle.
Offsite Parking with Shuttle Service to and from OCtoberfest for $15 per vehicle.
Newport Dunes Waterfront Resort is 1131 Back Bay Drive in Newport Beach.
---
More Greer