Greer's Blog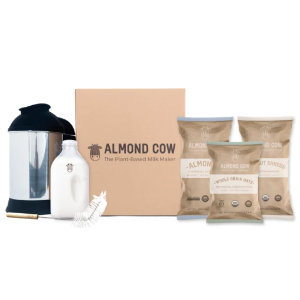 02.14.20
Now with the Almond Cow plant-based milk maker, you can also get the highest quality ingredients delivered to your home. There's even a new Almond Cow Starter Set that comes with an Almond Cow Plant-Based Milk Maker, Glass Jug & Brush, Almonds (3 lbs.), Organic Whole Grain Oats (3 lbs.) And Organic Coconut Shreds (2 lbs.).
Use any nut, seed, or grain to make homemade plant-based milk in moments. Makes 5-6 cups of fresh milk at the touch of a button. No straining. No mess. Easy cleanup. And, you'll save money on store-bought milk.
What's extra special about their Organic Whole Grain Oats (aka Groats) is that they are completely unprocessed and perfect for making milk in the Almond Cow!⠀
You can still make oat milk with rolled oats, yet, they're heavily processed and not as smooth or as nutritious as oat milk made with Whole Grain Oats. ⠀⠀
When you use code GREER you'll save $15 off the Almond Cow and Almond Cow Starter Set at almondcow.co.
---
More Greer