Greer's Blog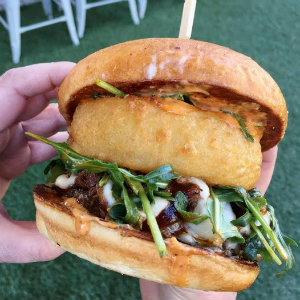 05.12.20
The Penalty Box at SteelCraft Garden Grove reopened for daily takeout service from noon to 8 p.m. Guests may use The Penalty Box app to order gourmet "pucks" (burgers) and "sticks" (hot dogs) and pick up at the East Gate parking lot behind City Hall. Postmates and DoorDash are available for delivery as well.
The Penalty Box, originally opened in late September 2019 at the repurposed shipping container center, is owned by Olympic Gold medalist and Hockey Hall of Famer Teemu Selanne and business partner Kevin Pratt. They also own Selanne Steak Tavern in Laguna Beach.
PUCKS are BURGERS and they're made with the eatery's signature blend of sirloin, short rib, and wagyu beef, and any burger may be substituted with a soy-based veggie patty. There are five different PUCKS ranging in price from $9 for The "Minor Penalty," which is a 1/3 pound wagyu beef patty with Tillamook cheddar, iceberg lettuce, Penalty Box sauce on a brioche bun to The "Broken Rib" for $16 made of 1/3 pound of wagyu beef patty, bourbon BBQ short rib, giant onion ring, smoked Gouda fondue and "Sin-Bin" sauce on a brioche bun.
STICKS are HOT DOGS and there are four temptations to choose from. The "Bagel Dog" for $8 is puff pastry wrapped with Everything Bagel Spice, garlic and herb cheese. For $14, The "Triple Deke" is bacon-wrapped Polish sausage, fire braised pulled pork, three-cheese fondue, pickled onion, scallion and Penalty Box sauce.
TWIGS are GOURMET POUTINES like The "Goon" at $7 composed of smoked slab bacon, Tillamook cheddar, scallion, chipotle aioli and fried egg and The "Vladimir" of short rib, bacon, cornichon, pickled red onion, American cheese and Russian sauce for $10 and others.
WHIPPED ICE are SHAKES priced at an easy $6 each with tantalizing selections including "Icing" (vanilla) composed of Tahitian vanilla bean ice cream, white chocolate chips, whip and sugar crisp and "Blowing A Tire" (chocolate) concocted of chocolate ice cream, dark chocolate chips, whip and sugar crisp. BOTTLE ROCKETS are SODAS – Boylan 12oz Birch Beer, Black Cherry and Orange Cream.
The Penalty Box is at 12900 S Euclid St. in Garden Grove. 714.462.6353
---
More Greer