Greer's Blog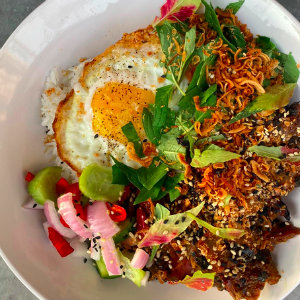 11.29.19
Five lifelong friends realized their childhood dream by opening The Recess Room together and bringing their take on modern American tapas and craft cocktails to their hometown of Fountain Valley. Today, The Recess Room just debuted lunch offerings in an alternative, quick service format. Lunch will be served from Tuesday – Friday from 11 a.m. – 2 p.m
While the dinner menu and its corresponding sit-down service will remain, lunch at The Recess Room features a chalkboard menu at check-in, where you'll order from a host, take a number, find your own seat, and wait for staff to bring your order to your table. The lunch menu consists of salads, hearty sandwiches, and Asian bowls, all of which can be taken to go – and a signature sizzling platter, with albondigas meatball, longanisa sausage, fried egg, and a French baguette, which is eat-in only.

SALADS
Farmer's Market Salad - $10
Chef's daily selection of the freshest farmers market produce
*add chicken -4
Tandoori Chicken Salad - $12
Mixed greens, radish, yogurt-herb dressing, cilantro, nuts

SANDWICHES
All sandwiches served with a side salad; add tots for $2
Pork Belly Banh Mi -$12
Crispy roast pork, thai chili jam, mixed herbs, jalapeno
"Fili" Cheesesteak - $15
filet mignon, ponzu butter, provolone cheese, grilled onion
Bone Marrow Burger - $14
Grass fed beef patties, bone marrow butter, bacon jam

BOWLS
Add fried egg $1.50
Shaken Beef - $14
Filet mignon, white rice, pickled radish, crispy shallot, watercress & tomato salad
Thai BBQ Pork - $12
White rice, Crispy shallot, crispy garlic, mixed herbs, pickled cucumber salad
Fried Chicken Adobo - $12
Garlic rice, crispy shallots, crispy garlic, pickled onion, pickled cucumber
KBBQ Tofu - $9
White rice, grilled kimchi, pickled white radish, mixed herbs

SIZZLING PLATTER
Filet Mignon - $16
Cognac pepper sauce, albondigas meatball, longanisa sausage, fried egg, French baguette

SIDES
Thai Tots - $3
Ooey Gooey Tots - $6
Brussel sprouts - $5
Carrots - $4
Pickled Egg - $2.50

Drinks:
Daily Agua Fresca
Coffee
Freshly Brewed/House Brewed Iced Tea
Perrier
18380 Brookhurst St. in Fountain Valley. 714.377.0398.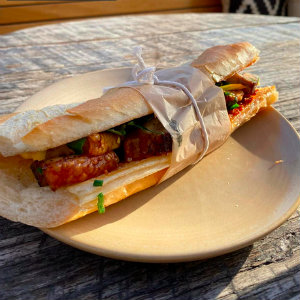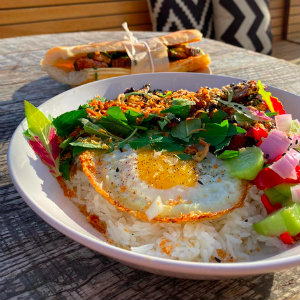 ---
More Greer