Greer's Blog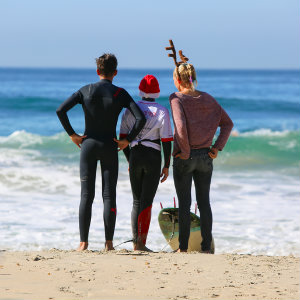 02.07.18
More than $35,000 was donated to Surfers Healing as a result of The Ritz-Carlton, Laguna Niguel's Annual Holiday Surfboard Auction and SUP/Surfing Santa Competition. Surfers Healing is a foundation for autism that hosts free surf camps that introduce children with autism and their families to the therapeutic properties of surfing. Last year, Surfers Healing took more than 5,500 children surfing during surf camps held across the country from Malibu and Doheny Beach in California to Wrightsville Beach, NC and Toronto, Canada.
The collection of donated surfboards were auctioned off and over the years has highlighted boards from well-known artists like Wyland, Darren Le Gallo, West Rubinstein, Dana Louise Kirkpatrick, and Sage Vaughn, musicians such as Donavon and the Red Hot Chili Peppers, and personal boards from surf legends including Greg Long, Andy Irons, Shawn Dollar, Laird Hamilton, Garrett McNamara and Kelly Slater, to name a few.
Developed by The Ritz-Carlton, Laguna Niguel's General Manager Bruce Brainerd, the two seasonal events have helped contribute nearly $350,000 to Surfers Healing.
---
More Greer