Greer's Blog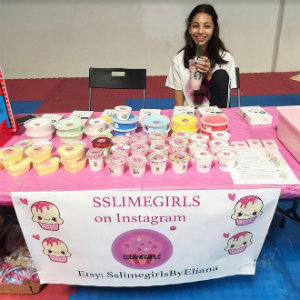 12.06.18
The wildly popular world of slime is coming to The District at Tustin Legacy this Sunday, Dec. 9 from 11 a.m. to 4 p.m. The slime craze is all the buzz; as featured on the Today show to the Wall Street Journal, with kids and teens making their own homemade slimes to post on Instagram (and amassing thousands of followers and for some, making up to six-figures selling said slime).
Organized by Eliana Korisky, The Slime Bonanza aims to celebrate all things slime, with exclusive slimes available for purchase from local slimers to slime demos and a slime-making station for hands-on slime action. Attendees are also encouraged to bring their own homemade slimes to enter into a contest or just to trade among fellow slime lovers.
Dozens of local SoCal slimers will bring anywhere from 100 to 200 of their own slimes to sell, including Christmas-themed slimes. In addition, there will be fun slime demos and slime contests. Confirmed local slime vendors include:
@pbunnyslimes @slimeylandshop @slimeysquishie @duramooshop @sliimeah @tastyslimery @tito.slimes @itsslimetyme @sslimegirls @slimeboxclub @theeslimes @wuhooslime @milkandteaslimetime @squishintime @bizcatslime @pateelshop @bunnibakery @kakeslime @sugarcottonslimes @kjpslime @duckywaddleslime @slimecrazied @instaslimesss @jimin.slimes @slimetist_ @stylishslimebystella @doggoneslimez
Michaels will be participating in the event with their own slime demos and they will also be doing slime gift basket giveaways and will award prizes to winning slimes.
The event will be held at the District Valet station, across from JT Schmid's, off Park Avenue near Tustin Ranch Road. Tickets are $15 for general admission at noon or $35 for early access at 11 a.m. plus a goodie bag. Parents who accompany children under 18 to the event will only have to pay $5. Tickets can be purchased at: eventbrite.com/e/socal-slime-bonanza.
2437 Park Ave. in Tustin.
---
More Greer