Greer's Blog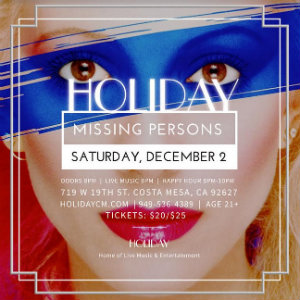 11.30.17
Holiday, Westside Costa Mesa's newest cocktail lounge and live music venue, welcomes '80s band Missing Persons on Saturday, Dec. 2 performing at 9 p.m. Tickets are $20/$25 and are available at holidaycm.com. The art deco inspired social bar present a robust schedule of free and ticketed live music events that includes country music on Thursdays, contemporary indie bands on Fridays and '70s and '80s tribute acts on Saturdays.
Aside from select shows, most concerts at Holiday are free to attend. The low-lit throwback bar serves modern interpretations of classic cocktails, local craft beers on tap and a curated selection of popular and interesting wines.
Holiday opens at 8 p.m., Thursday through Saturday nights and on select evenings for special concerts and events. Happy hour is nightly from 8-10 p.m.
Stay connected to the schedule of special performances, concerts, and events. For show tickets and more information visit HolidayCM.com
719 W. 19th St. in Costa Mesa. 949.536.4389.
---
More Greer