Greer's Blog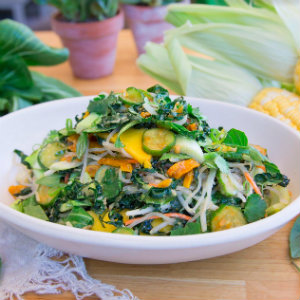 09.11.18
Even though summer might seem like it's over, you can still enjoy summer's seasonal foods. And at True Food Kitchen at Fashion Island new menu items are available through October. The menu highlights ingredients with natural health benefits based on the principals of Dr. Andrew Weil's anti-inflammatory diet.
The new menu features a bounty of the season's best ingredients at their peak of freshness, including Heirloom Tomatoes, Summer Berries, Watermelon and Lavender, alongside exciting new additions such as Forbidden Black Rice, Sweet Potato Noodles (aka Korean Glass Noodles), Fonio (a gluten-free West African ancient grain) and Black Walnuts.
New Dish Highlights:
Heirloom Tomato & Watermelon coconut lime yogurt, basil, mint, toasted pistachio (V, GF)
Korean Noodle Salad sweet potato glass noodle, bok choy, kale, cucumber kimchi, mango, bean sprout, almond lime vinaigrette (V)
Summer Tacos grilled fish* or grass-fed steak*, tomatillo-avocado salsa, pickled jicama slaw, coconut lime yogurt, anasazi bean (GF)
Responsibly Sourced Striped Bass* chef's selection of vegetables, grains
Summer Berries forbidden black rice, watermelon, macadamia nut, coconut whipped cream (V, GF)
Blueberry Pancakes quinoa, greek yogurt, maple syrup VEG, GF
New Beverage Highlights: a Watermelon Mojito lime-infused rum, mint; Wild Orchid lemon-infused vodka, lavender, blueberry; Pop de Provence lemon, lavender, bubbly water; Watermelon Lemonade; Blueberry Mint Mimosa; and Lavender Coconut Cold Brew cold brew ice, crushed coconut.
Open 11 a.m. to 9 p.m. Monday through Thursday; 11 a.m. to 11 a.m. Friday; 10 a.m. to 10 p.m. Saturday; 10 a.m. to 9 p.m. Sunday. Brunch is served 10 a.m. to 3 p.m. Saturday and Sunday; Happy Hour from 3 to 6 p.m.
451 Newport Center Drive in Newport Beach. 949.644.2400.
---
More Greer