Greer's Blog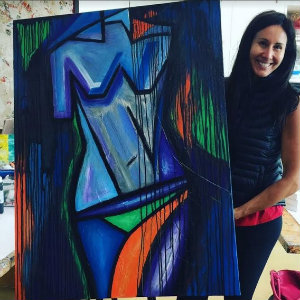 08.04.17
Urban Arts OC is a great new co-op art studio in Newport Beach, that just opened right across from Benihana. It's a multimedia art studio founded by artist Lynne Kaplan. "I think it's actually a space I created for myself to service my muiltmedia art needs," said Kaplan. "We do everything from art nights, to paint classes in acrylic and oils, as well as fused glass, sculpture, drawing, sewing, crochet and macramé. Urban Arts OC offers classes for beginners and advanced artists in a variety of medium, as well as ever changing workshops and events.
The funky and cool workspace provides a sense of community for creativity. The space also offers local artists a unique gallery space and an environment to inspire and foster fun.
On Monday, August 7, Urban Arts OC is offering an incredible workshop with local artist, Hugo Rivera at 10 a.m. You can treat yourself to a three-hour workshop with Hugo Rivera, you'll paint from a live model and explore the magic of abstract figurative painting. All levels of experience are welcome. All materials and snacks are provided. You can register and find out more here. urbanartsoc.com/schedule/
Urban Arts OC is at 4250 Scott Drive in Newport Beach. 949.474.1552.
---
More Greer