Greer's Blog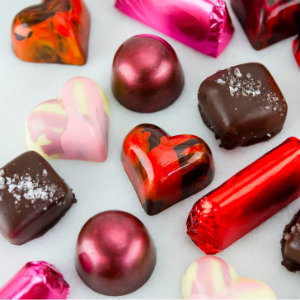 02.09.17
Master Chocolatier Amy Jo of Valenza Chocolatier will be at the Hood Kitchen Space + Market in Costa Mesa from Friday, Feb. 10 until Tuesday, Feb. 14 sharing her chocolate amore and selling the entire Valenza Chocolatier Valentine's Day Collection until it's sold out.
The special collection features the perfect gift for your loved ones, and even an exclusive His and Hers gift option. For Him, a boozy bourbon bar, and for Her, an edible modern take on the traditional red heart chocolate box. Plus, gift wrapped boxes of signature bonbons and confections for everyone to enjoy.
Anyone who stops by will also be eligible to win a Valenza Chocolatier Tartaruga gift box.
Open 10 a.m. to 2 p.m. Friday, Feb. 10; 10 a.m. to 2 p.m. Saturday, Feb. 11; noon to 7 p.m. Monday, Feb. 13; and 10 a.m. to 2 p.m. Tuesday, Feb. 14.
The Hood Kitchen Space is at 350 Clinton St. in Costa Mesa.
---
More Greer