Greer's Blog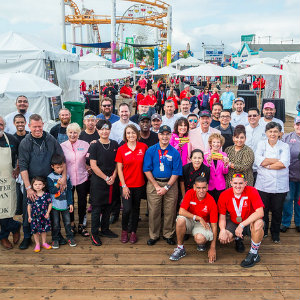 10.03.19
Special Olympics Southern California presents a unique culinary experience with LA's top chefs at the 2019 Pier Del Sol. This exciting event takes place Sunday, October 6 from 10 a.m. – 2 p.m. at the Historic Santa Monica Pier and Pacific Park. It's a private backyard amusement park experience and one-of-a-kind fundraiser.
Guests can enjoy the VIP treatment and sample 35 of LA's best food spots. Make sure to sample from this year's 2019 Honorary Chef, Andreas Nieto of LA Prime. Andreas has been a third generation chef since the age of 14 and holds a special connection to Special Olympics.
Other restaurants to sample from include Angelini Osteria, The Arbour, El Cholo, Luxe, Maison Giraud, Sprinkles, and many more. The event also includes a variety of family-fun entertainment, such as music, arts and crafts, games, a silent auction, cupcake decorating, and much more.. Most importantly, attendees will receive unlimited rides at Pacific Park! This incredible event is a unique culinary and amusement park extravaganza. Learn more at www.sosc.org/pierdelsol.
Purchase tickets for the Pier Del Sol fundraiser at sosc.org/pierdelsol
---
More Greer