Greer's Blog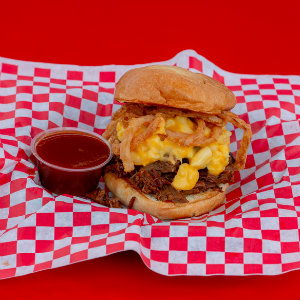 07.09.19
You can almost smell the hot dogs, burgers, turkey legs and just about anything coming out of the fryer in Costa Mesa today.
The OC Fair's famed foods will be ready on Friday, July 12. There will be more fried foods this year than you can devour. The new stand coming this year is Papi's Puffy Tacos, and Tater Twister is bringing a whole bunch of toppings for tots. You can also try a Buffalo Chicken Chimichanga at Chicken Charlie's to Fruity Pebbles Shrimp Po' Boy at Get Fried.

And for dessert lovers, the new sweets include Cinnamon Maple Bacon Bombs at D&D Country Cinnamon Rolls, Puffle Cone Sundaes at Fabe's, a strawberries and cream Texas Donut and Banana Cream Pie Funnel Cakes at Dutchman's.

Just a sampling of new foods coming to the 2019 OC Fair:
Salvadoran Pupusas – An OC Fair twist on the national food of El Salvador: masa grilled with cheese, beans, and bacon topped with cabbage and salsa (Bacon-A-Fair)
Hot Cheetos and Cheese Turkey Leg – With nacho cheese (Biggy's)
Slider Tower on a Stick – Beef sliders and tots (Biggy's)
Beyond Burger – A meatless option (Biggy's & Juicy's)
Crunchy Hot Cheetos Caramel Apples (Candy Factory)
Buffalo Chicken Chimichanga – Tortilla containing mac & cheese, bacon and buffalo chicken, fried and topped off with buffalo ranch and Flamin' Hot Cheetos (Chicken Charlie's)
Fried Hummus – House-made hummus coated with flour and seasonings, served in a pocket of pita bread and topped with sliced tomatoes and a sauce made of plain whole yogurt with tahini sauce (Chicken Charlie's)
Puffy Taco, Puffy Taquito (Papi's Puffy Tacos – new stand)
Tacos Vampiros – Grilled concave tortilla topped with melted cheese, the protein of choice, guacamole and topped with a second tortilla (Papi's Puffy Tacos)
Waffle Pizza – Belgian waffle topped with marinara, cheese, pepperoni (Pignotti's)
New this year: Grazing for Savings
Save money on value menus being offered this year at most food vendors, which feature budget-friendly $7.19, $8.19 and $9.19 options.
Don't forget $3 Taste of Fair Food on Thursdays!
Get a sampling of food and treats for only $3 each every Thursday from noon to 4 p.m. See a list of $3 food offerings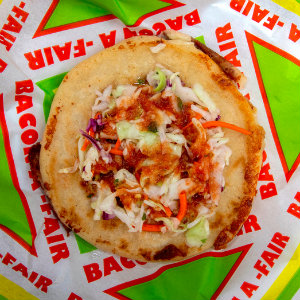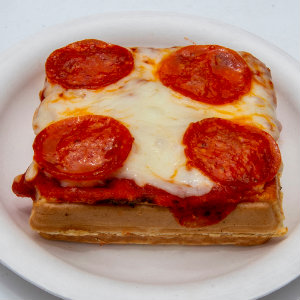 ---
More Greer