Interiors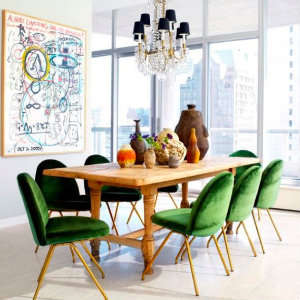 12.10.15
By Design by a Chameleon
The holidays are here and if you're not excited about hosting dinner in your dining room, we have some ideas that you can easily pull together in a matter of days. These updates will ensure that your dining room gets the attention it deserves and you'll be proud to show it off.
Go Bold
Whether you choose to paint your walls or trim in a surprising hue, or you'd rather make a statement with your tabletop accessories, artwork or rug, the dining room is the perfect place to take a chance-especially if you don't use the space every day.
Find the Perfect Rug
A beautifully designed rug is the perfect way to anchor any room, including the dining room. It adds visual interest and you can showcase pattern and color.
Photo by Nate Berkus Design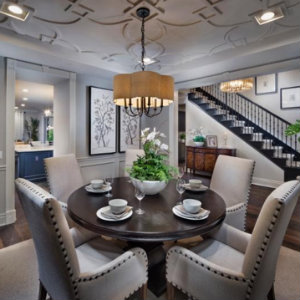 Add Statement Lighting
​ A gorgeous chandelier or statement light hanging directly over the table will do wonders for an otherwise simple space. If you're only going to splurge on one thing in your dining room, this is safe bet.
Photo by Chameleon Design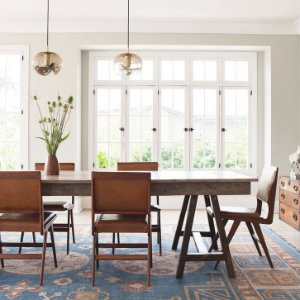 Expect the Unexpected
A plain wooden dining table surrounded by matching wood chairs might be an easy way to furnish your dining room but it won't make a big impact. Instead of going for that matching set, consider a popular trick- getting chairs in 2 or 3 different styles. Or if you don't want to mix up the styles, just make sure the table and chairs are made of different materials.
Photo by Lonny Magazine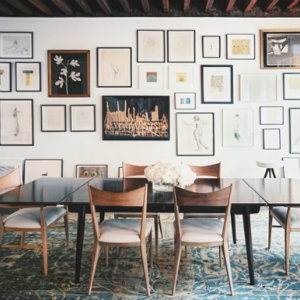 Create an Artistic Focal Point
Put the finishing touches on your dining room by bringing in eye-catching artwork. A gallery wall, or even a large-scale piece of art, will make the room feel complete, and add an extra layer of aesthetic appeal.​
Photo by Lonny Magazine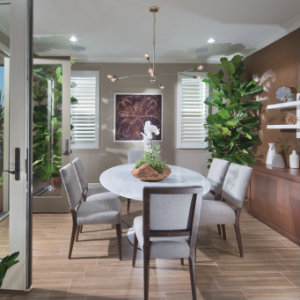 Show Off Your Favorite Serving Pieces
Don't keep your beautiful tabletop accessories hidden away in the cabinets. Plan for shelving or a sideboard in your dining room and put your pieces on display.
Photo by Chameleon Design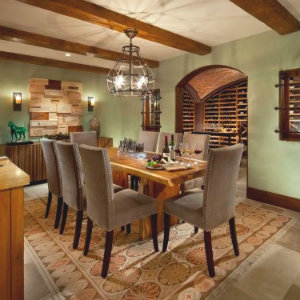 Take Tips From Your Favorite Restaurant
Nothing beats having a fancy meal at your favorite date night spot, so why not recreate that same feeling in your own home? Keep your lights dim and to create an atmosphere that makes every meal feel like a special occasion.
Photo by Chameleon Design
---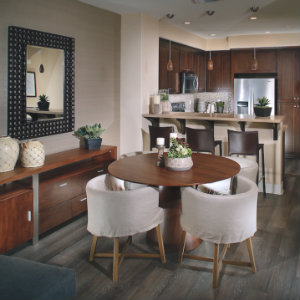 11.10.15
By Design by a Chameleon
Modern decor has been quite popular for years now and the look is not going anywhere! Creating a modern feel in your home doesn't have to be difficult but there are a few basic rules to keep in mind if you want to go this direction. If you go overboard in any one area, you may end up with something that's cold or uncomfortable, when what you really want is warm and relaxed. It's possible to get there if you follow these simple guidelines and before you know it, you'll have a modern decor that you'll love:
Simplicity
This word describes modern design better than anything, so make sure that you're always considering it when decorating your space. As we mentioned, don't go to the extreme and think you only need a few items in each room. But do go for an uncluttered look, with clean lines, which will naturally simplify things and be more cost effective in the long run.
Photo by Chameleon Design.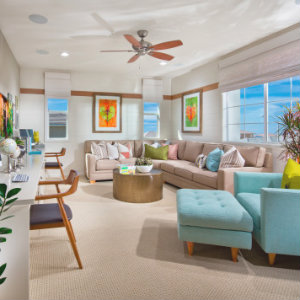 Functionality
Once you've nailed the simplicity by using clean lines and minimal artwork and accessories, you also need to make sure everything in the space is functional. This will vary from room to room, but the key is being able to walk into any area and easily access the items in it. For example, the room below utilizes extra wall space for a built-in desk/computer area that's not at all out of place in the open family room.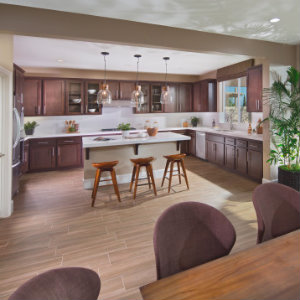 Open Spaces
If you are going with a modern decor, then you will want to have lots of open space in your home. This won't be as easy if you don't have an open concept but you can still create the appearance of open spaces by using color, fabrics and furniture. You can also keep windows coverings that are light in color and airy in feel to create an open feel in to the room even if it isn't.
Photo by Chameleon Design.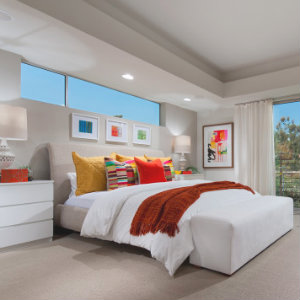 Character
Last but not least, don't forget to always inject character in each space. Whether it's done with color or a fun pattern added to an otherwise neutral palette or an incredible statement piece such as a chair or chandelier that packs a punch, don't neglect to add some personality to each room.
Photo by Chameleon Design.
---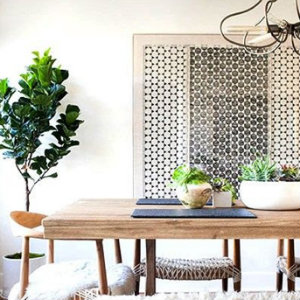 09.22.15
Design by a Chameleon
It's always bittersweet when Labor Day weekend rolls around, as we know that means it's time to say goodbye to summer. However, fall has an appeal all its own and the fact that it ushers in the holiday season makes it a special time. It's also a natural time to transition your home for the cooler temps that will be here before we know it. With simple things like swapping out textures and colors and adding natural elements into your décor, your home will be beautiful, comfortable and ready for the cooler days ahead.
Layer Your Home
Just like we begin to layer our clothes come fall, you can do the same with your home. Use differing but complementary colors, patterns and textures to add instant warmth to any room. Double up on pillows to make couches and beds extra cozy and try throwing sheepskins on your summery printed chairs, for texture and to create a warmer vibe.
Image by Home Polish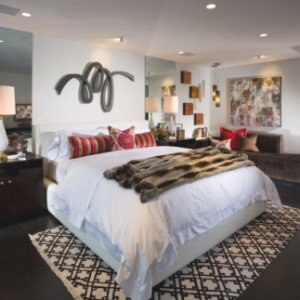 Swap Out Your Bedding
When you feel that first chill in the air, it's a great time to freshen up your bedding for the fall season. If you had lightweight cotton bedding for the summertime, incorporate luxe, cozy textures like cashmere or a soft flannel for fall. Fresh shams and maybe a few new throw pillows in richer tones will complete the look.
Photo by Chameleon Design.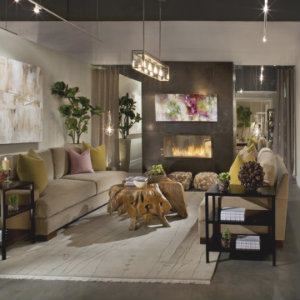 Ready Your Fireplace
Most of us don't use the fireplace at all during the spring/summer months, so it's likely that it could use a good cleaning to prepare for the cooler nights fall will usher in. A contractor of fireplace inspector will sweep the chimney and check for possible safety hazards, which is good to do once a year. If you prefer not to use your fireplace, you can create a beautiful and warm feeling with white pillar candles in varied sizes.
Photo by Chameleon Design.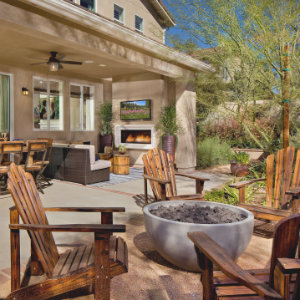 Prep Your Patio
Don't neglect your favorite summertime space when the seasons begin to change. As fall ushers in, we experience some of the best weather of the year and evenings spent outdoors are lovelier than ever. Look into inexpensive fire pits if you don't have a built-in and throw some machine-washable blankets on the outdoor furniture to fight that slight chill.
Photo by Chameleon Design.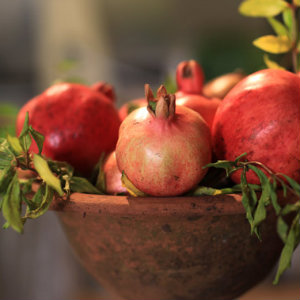 Pay Attention to Your Plants
One of the prettiest and most inexpensive ways to decorate for the fall season is to put foliage, flowers, and produce on display. Bring in an armful of cut branches or fill bowls with apples, pears, pomegranates, and nuts. Pumpkins and gourds are perfect in October and November.
Image by Florali.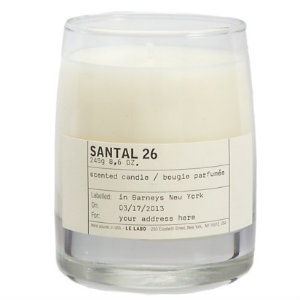 Dim the Lights
Candles add a perfect touch to fall decor. As the days get cooler and we want to curl up with blankets, good books and warm cups of tea, a candle-lit room creates a perfect fall ambiance. Change the fragrance of your candles so they have more of a holiday feeling. Go for a warmer, muskier scent- we love Le Labo's Santal 26 and Diptique Fig.
Photo by Barney's New York.
---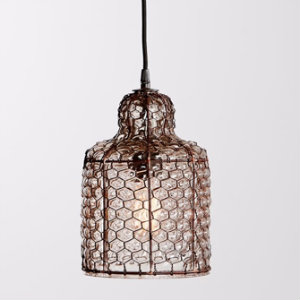 09.14.15
Design by a Chameleon
The industrial look continues to be a popular trend for interiors and recently there's recently been a huge influx of wire and mesh furniture and accessories coming on the market.
Its stripped-back structure and subtle appeal that mixes well with any era or design style, makes it the perfect addition to any interior space. We've seen such a variety of pieces that we love, from woven tables and mesh chairs to light fixtures.
Here are some of my favorite wire and mesh home accents.
Harlowe Wire Pendant, Bronze finish at Pottery Barn
Molten glass is hand blown into an iron farm-wire frame to create this pendant, replicating the repeating hexagons of a honeycomb.
Vintage Brass Finish Iron Wire Accent Table, 55 Downing Street
In a vintage brass finish over iron wire, this striking accent table will be a new focal point in your decor.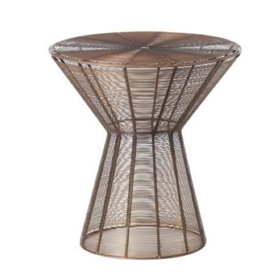 Woodard Wrought Iron with Mesh Settee, 1st Dibs
Created by Russell Woodard in the 1950's, this classic piece is in excellent condition.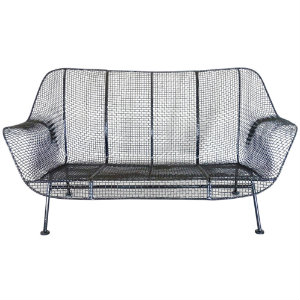 5 Drawer Mesh Wire Storage, Cheungs
This is a great and affordable accent cabinet.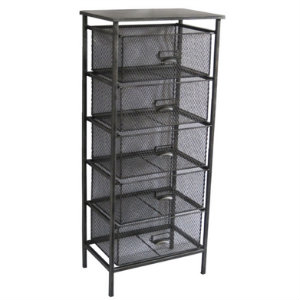 Bertoia Barstool, Knoll
Bertoia Barstool, part of the designer's iconic 1952 wire collection. This astounding study in space, form and function by one of the master sculptors of the last century is the quintessential modern barstool.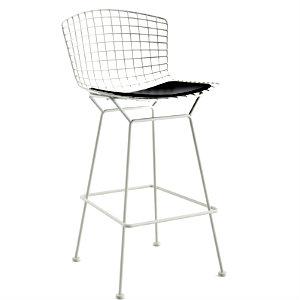 ---
More Interiors