Interiors
08.28.15
Design by a Chameleon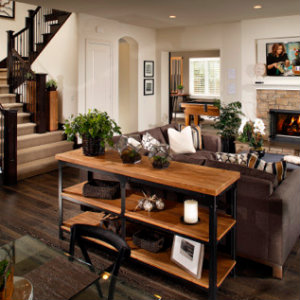 Open floor plans have become almost an absolute must in every modern home. Contemporary homes are all about rooms that flow into one another without any visual obstacles, which can be a decorating challenge for some. The key thing to remember is that having an open floor plan does not mean that each individual area cannot have an identity of its own. Here are a few principles that can help you to organize beautifully and get the most out of your open-plan living space: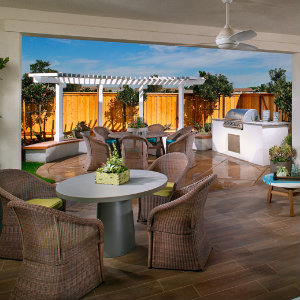 Create Spaces Within Your Space
Just because there are no walls doesn't mean you can't have different "rooms" in your open space plan. Smaller pockets of space, usually grouped around furniture and art, can create separate spaces within the open plan. Try using large furniture pieces for function, but also as natural partitions. It's important to have pieces of furniture or architectural elements to anchor each "room."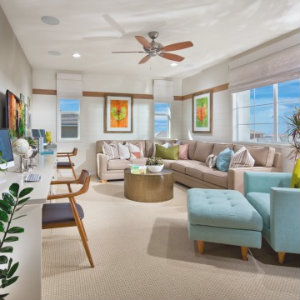 Focus Your Accessories
Designing an open plan area can be challenging in that there is so much space to fill. While you might be tempted to fill every square foot with furniture, a few careful arrangements of smaller furniture pieces will complete your room-within-a-room concept.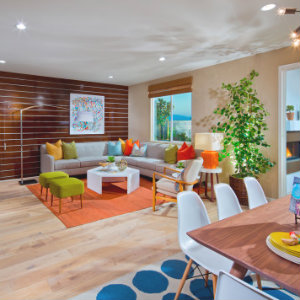 Delineate the Space with Rugs
Another simple way to organize large, open spaces is by being smart about the positioning of area rugs. Rugs bring the decor together and clearly create a more organized and curated space.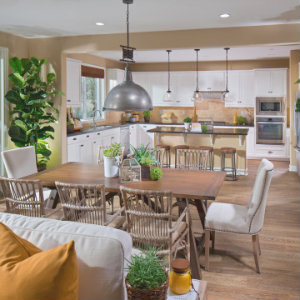 Statement Lighting
Another way to set a space apart from the other "rooms" in an open floor plan is to install a distinct light fixture. Defining the dining area with a great statement pendant or globe light will do the trick.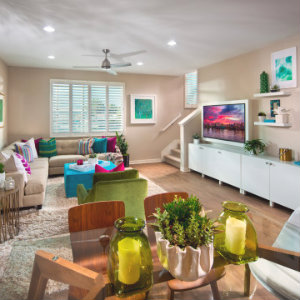 Use Color to Create Flow
Since an open floor plan demands one uniform backdrop for the entire floor, go with a single neutral color for the walls. Pops of color can then be added as accents in the form of throw pillows, artwork and rugs. In the kitchen, use a new material or color for the cabinets to allow it to stand out, as its own room.
You can learn more about Eve's design point of view by visiting her blog at ChameleonOC.com. Please note that Eve's company does not offer residential design as they are strictly specialize in commercial endeavors with an emphasis in the home building industry. If you are interested in retaining a designer, she encourages you to visit the American Society of Interior Designers' website for a list of referral designers.
---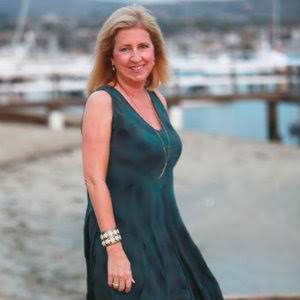 08.26.15
Eve Lowey has a distinct ability to capture 21st century living through stylish, natural and modern design, which has built her a solid reputation in the design industry.
Her aesthetic addresses the combination of elements from the contemporary to the rustic, with an instinct for bringing trends into the foreground.
With more than 30 years of interior design experience and more than 70 design awards, Eve is the driving force behind Chameleon Design, a commercial design firm specializing in the home building and multi-family community arenas.
---
More Interiors