Greer's Blog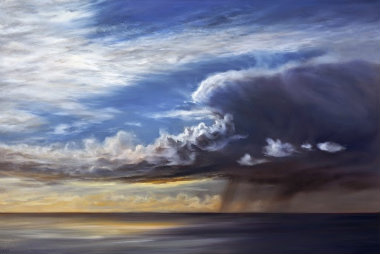 Clouds Got In My Way
10.09.14
Lahaina Galleries at Fashion Island presents an artist reception for California-based artist Cheryl Kline on Saturday, Oct. 11 from 4 to 7 p.m. Kline's large abstracted landscapes of the sky includes 14 paintings and the collection, entitled "Clouds got in my way," offers a unique perspective of the artist's celebration of the grand and awesome skies off the Pacific Coast.
Kline also founded Kline Academy of Art in West Hollywood, devoted to teaching excellent painting and drawing skills to artists of all levels.
Admission is free, RSVP to lgi@maui.net
Lahaina Galleries is at Fashion Island, 1173 Newport Center Drive in Newport Beach.
---
Dining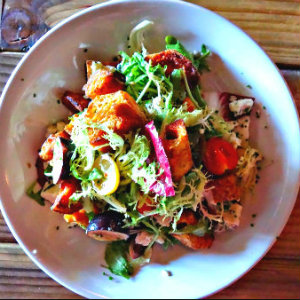 Dine and Drink at Social Costa Mesa
10.07.14
The new SOCIAL Costa Mesa on West 19th Street is a chef and ingredient-focused restaurant with locally-sourced produce and meats set in an open rustic atmosphere with reclaimed wooden tables and leather booths. SOCIAL's team, restaurateur Andrew Dorsey, former Playground Chef Jeffrey Boullt, Chronic Tacos co-founder Dan Biello, and entrepreneur Mac Carlson are on a mission to provide Costa Mesa with a go-to place that has something for everyone: shared plates, weekend brunch, late-night bites, seasonal menus, indulgent entrees, as well as handcrafted cocktails.
Chef Boullt has worked for award-winning chefs such as Eric Greenspan, Tory McPhail, Suzanne Goin, as well as spent time in New Orleans where some of the menu items are influenced from, such as the chicken and waffles with Jidori chicken oysters and a cornmeal waffle, topped with Louisiana Sugar Cane and housemade hot sauce butter.
SOCIAL's fall dinner menu features dishes like a fall panzanella salad with black mission figs, heirloom tomato, marinated olives, chicories, Point Reyes bleu cheese, and Banyuls vinaigrette; brussels sprouts with farmer's honey, sweet potato hay, housemade tasso ham, and hazelnuts; pan seared muscovy duck breast with Frog Hollow pears, cauliflower puree, chicories, and roasted shallot duck jus; and charbroiled oysters with smoked tomato butter and crispy shallots.
The brunch menu offers dishes including the SOCIAL Benedict with seared, smoked and confit of pork, pimento cheese biscuit, slow eggs, and creole mustard Hollandaise; banana fosters pancakes with ol' fashioned buttermilk pancakes, Caribbean rum, Louisiana sugar cane syrup, and farmers' market bananas; and duck confit hash with fall root vegetables, holy trinity, duck jus, and aged cheddar mornay.
James Wood, a popular Orange County bar expert, has been consulting with Jason Hunter, a Level 1 Sommelier and the former bar manager at the Andaz Hotel in San Diego. Together, they have created a cocktail and wine list to complement Chef Boullt's menu.
SOCIAL's opening mixologist team, trained by Dushan Zaric, recently named "Best Bar Mentor of 2014" by Tales of the Cocktail's Spirited Award, includes Mike West, Alejandro Pareja, and Nick Stolte. Signature cocktails include 'Sadie the Goat' with housemade orgeat, Jamaican Rum, fresh guava juice, lime, fennel bitters, Peychauds bitters, and a red wine floater; and 'Border Patrol' with mezcal, tequila, charteuse, housemade lemon cordial, a tomatillo and chili salt rim, and meyer lemon leaf garnish.
Open Tuesday to Friday from 4 p.m. to 1 a.m., and on weekends from 11 a.m. to 1 a.m. (closed on Mondays). Dinner will be served nightly from 5 to 10:30 p.m., with weekend brunch from 11 a.m. to 3 p.m. Happy Hour will be Tuesday to Friday 4 to 6 p.m., and late night bites will be available Tuesday to Sunday from 10:30 p.m. to 1 a.m. Sunday nights from 4 p.m. to close will be 'Industry Night,' and SOCIAL will offer 50% off select menu items and cocktails for hospitality professionals.
512 W. 19th St. in Costa Mesa. 949.642.2425.
---