Greer's Blog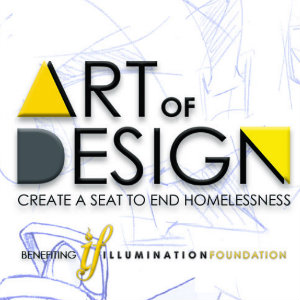 Art of Design Create a Seat to End Homelessness
10.05.17
You're invited to Illumination Foundation's Art of Design on Saturday, Oct. 7 from 5 to 9 p.m. at the Coldwell Banker Atrium in Newport Beach. It's a night of food, drinks, entertainment and one-of-a-kind, custom seats created by eleven of Southern California's top interior designers to raise funds to address the behavioral health of homeless and unstably housed children.
Each designer is creating a custom chair depicting their own personal flair, without any limits on fabric, size and style to be auctioned at the Art of Design event.
Participating designers include EC Designs, Kenn Gray Home, Turcotte Interiors, K. Smith Interiors, Huma Sulaiman Design, Jess Jones Design Group, Denise Morrison Interiors, Carly & Co., Ohara Davies-Gaetano Interiors, Indoteak Design, and Graig Cady.
Participating restaurants include Filomena's Italian Kitchen, Sol Mexican Cocina, ChocXO, Nothing Bundt Cakes, Royal 21, California Fresh, Skyloft, Brio Tuscan Grille, Newport Rib Co., and Asian Box.
Tickets cost $200. For more information, visit ifhomeless.org/aod2017
Coldwell Banker Atrium is at 840 Newport Center Drive in Newport Beach.
---