Greer's Blog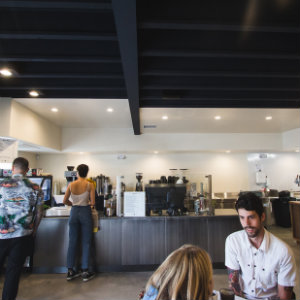 Bear Coast Coffee Opens in Dana Point
10.08.18
Bear Coast Coffee's founder Jeff Clinard has built a cult following of morning java addicts and afternoon coffee connoisseurs with his coastal cool coffee shop in San Clemente located right across from the San Clemente Pier.
Clinard has been dreaming of a second location where a cup of coffee could start a customer's day in a positive way. And now, Clinard and the Bear Coast Coffee team are thrilled to bring the same energy to the Dana Point community.
The Dana Point location offers exactly what the San Clemente location is lacking: space. The 700-square-foot establishment is not only a larger indoor footprint, but also offers patio outdoor seating — something the San Clemente location is lacking due to limited space. When searching for the perfect sister location, Clinard took customer feedback and wishes into great account, and space was one of them.
The menu is consistent, simple and reliable with the Dana Point store also offering steady, quality organic pastries from Rye Goods Co. as well as loaded avocado toast, paleo-friendly breakfast bowls and gourmet bagels. Both locations serve breakfast daily until 11 a.m. The coffee
The coffee is from Sweet Bloom Coffee Roasters out of Lakewood, Colorado. It's exceptional, ethically sourced, and their methodology is great as well. The coffee menu can be viewed here.
Philanthropy and sustainability will continue to be a major focus, as Bear Coast is committed to the beautiful natural environment, particularly of coastal cities like San Clemente and Dana Point. All of the branded bags and plastics are compostable, with container lids composed of corn-oil-based materials. The goal is to work closely with organizations to help offset Bear Coast's carbon footprint, making responsible eco choices to be carbon neutral when possible.
On the wall is a mural by artist Brian Kesling of a classic Ferrari 250 California Spider with a surfboard on top, celebrating Clinard's love for vintage cars. The artistic nod might even have something to do with the fact that he had to sell a beloved classic to secure the capital to invest in Dana Point.
6 a.m. to 6 p.m. daily.
Bear Coast – Dana Point is at 34053 La Plaza #103 in Dana Point.
Bear Coast – San Clemente is at 618 ½ Avenida Victoria in San Clemente
---