Greer's Blog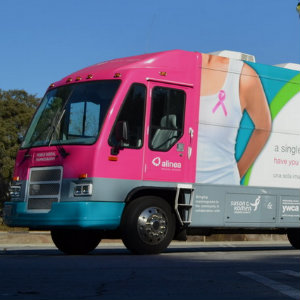 Free Breast Cancer Screenings
10.01.18
Susan G. Komen Orange County, in collaboration with the Los Angeles Chargers, is teaming up with Nhân Hòa Comprehensive Health Care Clinic and Alinea Medical Imaging to conduct vital breast health outreach services on Tuesday, Oct. 2 from 9 a.m. to 2 p.m. in an effort to kick off National Breast Cancer Awareness Month.
Komen is reminding the public that more than 41,000 people in the U.S. are dying every year from this disease–that is unacceptable! In Orange County, five women are diagnosed with breast cancer and one dies each day–that is unacceptable! Komen and the Chargers are committed to providing the community with resources and information to increase early detection and save lives.
Eligible women have the opportunity to receive FREE clinical breast exams and screening mammograms on Tuesday, Oct. 2 from 9 a.m. to 12 p.m. through a partnership between Komen Orange County, the Los Angeles Chargers, Nhan Hoa Clinic and Alinea Medical Imaging Women 40 years and older; low household income; no medical insurance or an insurance that has a high deductible or co-payment. There will be FREE on-site breast exams, mammograms and flu shots featuring the Los Angeles Charger girls at Nhan Hoa Clinic at 7761 Garden Grove Blvd. in Garden Grove.

---