Greer's Blog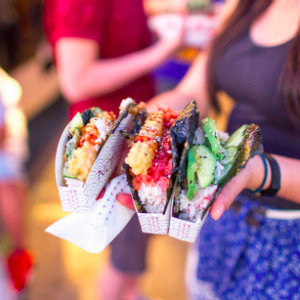 Bring Your Stretchy Pants to OC Night Market
05.16.19
The OC Night Market returns to OC Fair and Event Center on May 17 – May 19. Bring your stretchy pants and choose from hundreds of food items and watch vendors cook right before your eyes. Fan favorites range from traditional Asian street snacks like takoyaki octopus balls and grilled squid bigger than you've seen, fusion bites such as pho tacos and rainbow elote, and fantastic desserts like poop emoji-shaped churros and potted plant ice cream.
Sharing is caring, but you can snack on smaller portions or go whole hog on an item you really, really want for yourself! Tip: come with a group and split up. Order from different vendors and then reconvene to share and maximize the variety of foods you can EAT!
There's also merchandise, crafts, arts, games, music, and entertainment attractions in an epic event that appeals to all ages. 626 Night Market aims to unite and empower the community by serving as a platform for showcasing local entrepreneurs, businesses, artists and talent.
Open 4 p.m.-midnight Friday & Saturday, May 17-18; 4-11 p.m. Sunday, May 19.
General admission is $5; free for children 3 and younger. Parking is $9.
More info visit ocnightmarket.com
---