Greer's Blog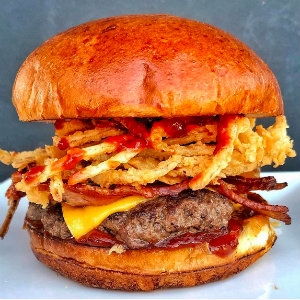 Celebrating National Burger Month at SoCal's Burnt Crumbs and Burntzilla
05.21.19
You never need an excuse to devour a juicy burger, but just in case you can celebrate National Burger Month all this month or National Burger Day on May 28 with an array of delicious burgers from SoCal's Burnt Crumbs and Burntzilla.
Burnt Crumbs
The Western Burger - This award-winning burger (named as one of OC's best burgers by Orange Coast Magazine) features a premium Angus beef patty, smoked cheddar cheese, applewood smoked bacon, BBQ sauce, and crispy onion rings. Have a napkin (or five) ready.

The Pastrami Burger ($15) - Calling all carnivores! Not for the faint of stomach, this bad boy boasts a double-whammy of meaty goodness, with 1/3 lb. Angus patty layered with 11-day house pastrami, plus Swiss cheese and Russian dressing, all on a Parker bun.
Open 11 a.m. to 9 p.m. daily.
Burnt Crumbs is at Pacific City at 21058 Pacific Coast Highway in Huntington Beach. 714.374.0777.
And at Los Olivos at 8549 Irvine Center Drive in Irvine. 949.502.5998.

Burntzilla

The Crossover Burger: This special burger was created in honor of a loyal regular customer, who also happens to be a sought-after NBA trainer (Jordan Lawley) who burns 5,000 calories a day, so he fuels up on plenty of burgers at Burntzilla and Burnt Crumbs. He ate there so much the restaurant owners decided to collaborate with Jordan to create his own burger and they put it on the menu. It's now one of the most popular burgers at Burntzilla! The Crossover burger features a 1/3-lb steak-blend patty with cheddar cheese, fresh guacamole, applewood smoked bacon, a Tapatio and lime aioli + a sunny side up fried egg, all nestled in a sweet Hawaiian bun.
14413 Culver Drive in Irvine. 949.392.5995.

About Burntzilla and Burnt Crumbs

Part of The Burnt Group family of Southern California restaurants and food trucks, Burntzilla, and Burnt Crumbs are chef-driven, fast-casual dining concepts with seasonally-changing menus. Burntzilla serves a mix of specialty sliders, Japanese-inspired hot dogs and burgers while Burnt Crumbs offers a satisfying menu of modern sandwiches with fun twists, from signature favorites such as the Spaghetti Grilled Cheese to a Buttermilk Fried Chicken Sandwich on housemade biscuits and a Spicy Korean Pork Belly Sandwich with housemade kimchi.
---